With a Little Help From Ryan Adams and Elton John, High School Rockers Starcrawler Are Here to Prove Metal Isn't Dead
The young Los Angeles rock band, fronted by photographer Autumn de Wilde's daughter Arrow, is ready to break out, armed with a cosign from Elton John and a forthcoming album produced by Ryan Adams.
---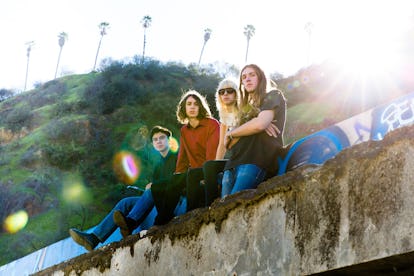 Photo by Myles Pettengill.
A year to the day after Starcrawler played its first-ever show, as part of multi-band lineup at The Echo in Los Angeles, the four-piece band stepped onto the same stage as the headliners—their first-ever top-billed gig.
That was February 26. The next day, the band's frontwoman Arrow de Wilde and guitarist Henri Cash trudged back into school, still exhausted from the previous night, to resume their studies.
"People came, man," Cash said on the phone from Los Angeles. "We got more money," de Wilde added. She, Cash, and drummer Austin Smith burst into laughter. The band has forged its reputation on the stage of The Echo—the venue is also the setting for the video for Starcrawler's debut single "Ants," which premiered on Thursday.
In the video, de Wilde sidles onto the stage, her arms bound by a straightjacket, and wails into the microphone: "I got ants when I don't, I got ants when I won't, I got ants on my chair, they bite like a bear." And though it's just getting an official release, the band has been playing "Ants" practically since its inception—it was the first song they wrote, days after they formed and before they even had a name, and it was the first song Elton John played on "Rocket Hour," his Beats 1 show, one late November evening.
"We like to pretend like it's a metaphor for standing out, but it's kind of just about ants," de Wilde said, laughing. Inspired by an ant infestation at Cash's home—so severe that, when he arrived at school one day, a teacher sprayed him with Raid—it clocks in at just under two minutes, a jolt of electricity that channels the energy of late '70s hair metal with a grotesque edge. On stage in the video, de Wilde tears at her clothes, frequently consisting of medical uniforms—hospital gowns, the aforementioned straightjacket—and bedazzled underwear. Her mouth is bloody, her chest smeared with red. "I was tired of being boring," she told me of her stage look. "I don't know if I was ever boring."
The band formed as an amalgam of each of its members' influences in summer 2015. De Wilde, who is the daughter of the photographer Autumn de Wilde, a documentarian of musicians and designers like Elliott Smith and the Mulleavy sisters of Rodarte, and drummer Aaron Sperske, formerly of Ariel Pink's Haunted Graffiti, was raised on classics like the Beatles and Cat Stevens, and "whatever band my mom was shooting at the time," she said. "My first memory of music would probably be my dad playing drums with me on his lap when I was a little toddler," she said. She discovered Ozzy Osbourne and Black Sabbath in middle school—and became obsessed. Cash grew up hearing bluesmen like Muddy Waters and Professor Longhair before turning to AC/DC and the Ramones.
"Our influences on how we play are very different," Smith said. "But they're close enough that when we come together, it meshes well." He and de Wilde had started playing together before the genesis of Starcrawler, but they needed a guitarist and bassist. "At school one day, I saw Henri and said, 'You look cool, do you play guitar?' because he was carrying a tuba case," de Wilde recalled. "He was kind of weirded out, I think." She knew bassist Tim Franco and signed him up shortly after; they devised the name just before they played their first show because they needed something—anything—to put on the posters.
Late last year, the band entered the studio with Ryan Adams, a friend of de Wilde's mother, to lay down their debut record on analogue tapes. Though its release date is still tentative, later this month Starcrawler will set out on the road, playing a handful of dates in the U.K. before returning to California. Then, in June, de Wilde will graduate high school. (Franco and Smith have already graduated; Cash will follow a year behind de Wilde.)
And as for the record?
"It's going to reassure people that rock and roll is still alive," Cash said.
Meet the women who made history as the organizers of the Women's March on Washington: