Hedi Slimane's New Muse Staz Lindes: 'Clothes Are Whatever'
She's the three m's: model, musician, and now, muse.
---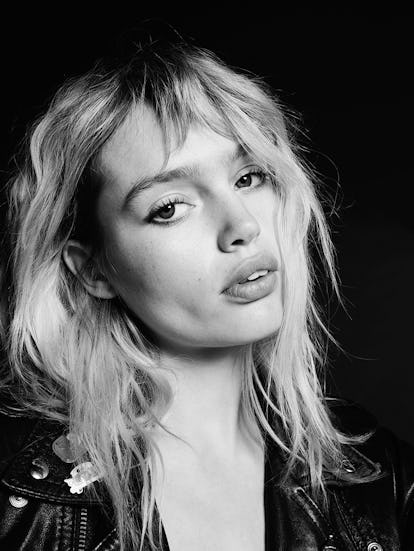 Model and musician Staz Lindes caused a commotion when she walked in Hedi Slimane's Saint Laurent Spring 2016 runway show in October wearing a silvery slip dress, a Courtney Love-style tiara and her signature pout, much beloved by her 60,000 plus Instagram followers.
Now, it seems her fate as a bonafide muse is sealed: on Thursday, Slimane posted a series of black and white portraits of Lindes, 23, and her brother Misha, 25, on his eponymous Diary.
Before a show tonight in Los Angeles with her band The Paranoyds, the daughter of former Dire Straits guitarist Hal and his model wife Mary, got on the phone to talk shooting with Slimane, thrifting in Los Angeles and the demise of the leather jacket.
Congratulations on the portraits Hedi did. How did they come together? My brother asked me super last minute to play in his show [in late August]. He's in a band called SadGirl, and it was his music video release show. And I guess Hedi just turned up and then after that his assistant was like, 'Oh let me have your emails and stuff.' And they just asked us to come by the studio and we shot for like an hour and that was about it.
So this was all before you were cast in his spring '16 show? Yeah, that's how we met. So basically he shot us and then he used me for the show.
What kind of direction did he give you before you showed up? You guys are wearing your own clothes. It was super vague. We were like, 'Uh, so do we have to bring our own clothes or something?' And then at the last minute they did say that, like, 'Bring your own clothes.' And I kind of filled a whole rack not knowing what they would want. Basically, when I came in he was like, 'You should just wear what you want to be remembered in.' And I was just like, 'Ahhh, okay, sure.' So it was hard for me because I'll pay so much attention to an outfit for one week and then not wear it again.
What do you think now looking at what you chose to wear? It's just honest. It's fine. Clothes are whatever anyway. It's obviously what I wanted to be wearing. So yeah, it's cool.
What were some of the other things on the rack that you rolled in there with that didn't end up in the shoot? Me and my brother grew up in L.A. We've always thrifted constantly, so it was either stuff we recently found or stuff I've kept since high school and probably a few of his band t-shirts or friends' t-shirts, just in case I could rep someone. And then he [my brother] brought the same because he likes mostly vintage pieces. We don't really shop at the mall.
Do you guys shop together a lot? In high school, we were best friends and that was definitely what we would like to do on the weekend. We would hit up flea markets all the time and thrift and we've always been like that. We've always had that yard-sale-treasure-hunting thing. We'll even go to Rose Bowl together still.
Do you guys share clothes? He's actually been borrowing a lot of the stuff I've found for myself lately. For that shoot—Hedi didn't end up using the pictures but there were some shots of him in it. I brought a super cool, bright orange sweater that has a black lined deep v-neck with a white border to it. Kind of like a classic Fifties school jumper. And I actually haven't been able to have it since I bought it. He's worn it at shows a few times. We kind of like that school uniform Fifties, Sixties style thing. So the thick wool sweaters and letterman jackets and stuff like that.
Has this been happening since early childhood? Yeah, we've always just met each other at certain points and inspired each other. Because he's older, but I definitely feel like it goes both ways. It's not just one-sided.
What were some of the things that crossed over when you were younger? I'm assuming it wasn't always letterman jackets. It was about music, mostly. I definitely got into Led Zeppelin because he was playing Led Zeppelin and I was playing Hank Williams and then he got into Hank Williams. It was that kind of stuff, more so than fashion. He's actually a very talented artist and he was super into graffiti and art in high school and I definitely explored a lot of that world because of him.
This is the first time you've done a shoot together. What was that like? Hedi either has one thing in his mind, where he'll be like, 'Do a very direct direction.' And if not, you're kind of like, 'Oh, I hope this is okay!' And my brother doesn't really model and I've kind of modeled for a while, but I think it was great. I don't think it looks as insecure as it felt at the time—just a little unsure. But yeah, it was funny. Super surreal. It's not very dramatic as some cinematic and theatrical photographers can be. It's straight up portraits of who you are.
Back to the outfit you're wearing in those photos. What's with all those Elvis buttons on your leather jacket? Someone bought me an Elvis patch and I sewed it to the back of that jacket and I found another Elvis patch and I sewed it to the front. And then I just kept finding badges. And me and my boyfriend collect badges all the time. I have a gross amount of stupid pins everywhere. I guess the leather jacket is so a-million-fish-in-the-sea that for some reason, I wanted to put an Elvis theme on it. And I don't really wear all those pins all the time necessarily because otherwise it's a little flair-y for me. But I kind of like it cheesy like that because the leather jacket has become cheesy in a way, too. As soon as it's being made at Forever 21 or even Urban Outfitters or anything mainstream it's definitely lost its edge.
But you're still wearing one, so you need the pins to make it okay? It's something that the second you put on, it feels good and looks good and that's why it's so popular. But there are definitely times when I go out in my leather jacket and I'm like, 'Goddamnit, everyone's in a fucking leather jacket.' You show up to meet your friends and all of you are in leather jackets, you know? And sewing patches? I've always been into that and customizing stuff. And if that means ruining it in a certain way, unfortunately I do that.
Did you sew the Looney Tunes patches onto the overalls you're wearing? No, I actually find those at a Salvation Army. They're old WB [Warner Brothers]. They had the original WB price tags on them for $50 but they were like $2.
Was that an ironic nod to cartoon culture or are you actually a Looney Tunes fan? I'm a big cartoon fan. I watch cartoons all the time. The Simpsons is my favorite show and Looney Tunes is great. I didn't think much of it. You see something original with Looney Tunes on it and that's dope. I have a weird trained eye. Actually my friend found those, we were together at a Salvation Army, but you just look out for stuff like that, you look out for the original cartoon stuff.
Your dad was in the band Dire Straits and your mom has modeled. Were fashion and music always present for you? I think it's linked. My mom, even though she's a fashion model, I never knew anything about brands. She grew up in London in the peak of the Sixties and the Seventies so she was wearing Ossie Clark and those amazing brands. I never saw her wearing Chanel or Dior, even. I always remember her in leopard or floral and chiffon. And she's always been super big on music and that's how she ended up meeting my dad: it was either through a concert or through a friend. But they've both really pushed music onto us and [for us to] have an identity [with] music our whole lives. I'd feel lost without it.
Did you listen to your dad's music a lot growing up? No. I still don't really know too much about Dire Straits, to be honest. He wasn't putting it on. He wasn't like, 'Listen to this great album I did.' It's definitely more of, 'You don't know this song your dad did?' Or some friend's parents being more excited about it and me as a little kid not knowing really. He has a couple of early Seventies home demos that I really, really love that are on a four track machine. And he also had this super early band called Darling that's kind of like a cheesy female singer but I kind of love that, too. The situation just never arose where they popped on the Dire Straits CD and were like, 'Get into this.' And he's actually quite shy about it. I remember in high school finding interviews of him on YouTube and freaking out because he was, like, 20 in these interviews and showing them to him and then a month later they wouldn't be on YouTube anymore for some reason.
So what did you listen to growing up? It's always been important to me for it to have soul and passion in music. I have to feel whatever pain or feeling the person is going through. My mom loves the Everly Brothers and was pushing The Cure and Elliott Smith and The Clash. And then my dad [is] very classic rock, too. I've just always thought music should be passionate and that's how I play. I want people to know I want it. And I'm very much into soul and gospel as well as punk. Nothing sounds as good as a live James Brown album from the Sixties because it just hurts to listen to. That's very important to me, to communicate a message of feeling because it's spiritual in that sense.
Were you always going to start a band? I was growing up on the Britney Spears and Destiny's Child and Mariah Carey stuff and that was real cool when I was young, but once I heard No Doubt I was like, 'Holy s–t, I could be a girl in a band with guys,' like, 'This is my dream.' I remember trying to orchestrate bands basically from the time when I was 10. And I had a couple of cute projects in middle school from sixth grade to eighth grade, starting with Nirvana covers and then I had a Bikini Kill cover band. And I never ended up playing any shows or having a solid band until I met my current band in high school. And then we didn't even start playing shows until a year and a half ago, two years ago.
You guys have a show in L.A. tonight. Do you have a go-to outfit for performing? It's super random. The outfit I have planned out in my head I probably won't even end up wearing. I have a red velvet baby doll dress and this Christmas horror movie t-shirt that has Santa's face real big with blood coming out of his mouth. So I was just going to wear that over the dress. But sometimes we'll all wear our band shirt or red eyeliner. It's hard to know what isn't gimmicky anymore. So we don't coordinate it.
You were discovered in a bowling alley at 14 in Santa Monica and have been modeling seriously since you were 19. The Saint Laurent spring '16 show was your first runway experience. Were you nervous? Did you get walking lessons? I should have gotten lessons! I wish I had because I'm pretty hard on myself. The easiest part of it was a lot of the girls in the show are actually pretty good friends of mine that I [have known] for years now. And the music he chose was an exclusive song ["The Mirror" by Damaged Bug] that dudes from the Thee Oh See's made for him. So the music was good. I was surrounded by my friends. I just tried to keep in mind that I'm just wearing my friend's clothes and walking outside and back in—just trying to keep it as casual as I could in my mind.
And now you've walked in the show and then there are these portraits. A lot of people are calling you a Saint Laurent muse. What do you think of that and specifically, the notion of being a muse? That's cool, if he thinks that I'm enough. I don't know if that's what I am to him. Hopefully [it's] because of the music tying into it, too. That's really cool to me. He's kind of an historical figure at this point in the fashion world and I don't know what to say…What do you say?
Thank you, I guess? Yeah, thank you. I hope that means you like the music. I hope that means the music is good. There's obviously something you like, so thanks.
The Paranoyds open tonight for the band Wild Wing at The Smell in Los Angeles.
Photos: Hedi Slimane's New Muse Staz Lindes: 'Clothes Are Whatever'
Staz Lindes by Hedi Slimane. Courtesy of the photographer.
Misha and Staz Lindes by Hedi Slimane. Courtesy of the photographer.
Staz Lindes walks the Saint Laurent Spring 2016 runway. Courtesy of the brand.
Lindes by Hedi Slimane. Courtesy of the photographer.
Staz Lindes walks the Saint Laurent Spring 2016 runway. Courtesy of the brand.
Lindes by Hedi Slimane. Courtesy of the photographer.
Lindes by Hedi Slimane. Courtesy of the photographer.