November 2015 Editor's Letter: Not Just Another Pretty Face
W's editor-in-chief discusses Jessica Chastain's arful legacy.
---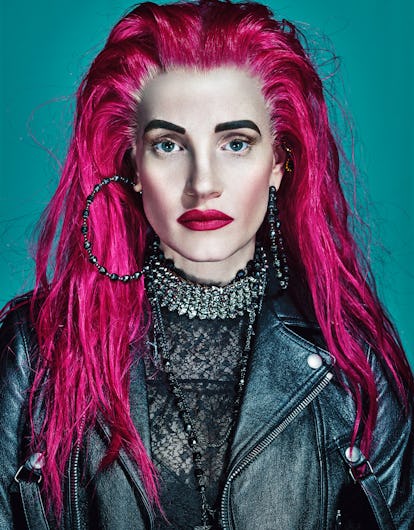 Photographer: Steven Klein Stylist: Edward Enninful
For my first cover as the editor of this magazine,more than five years ago, we selected eight practically unknown actresses to sit for the photographers Inez van Lamsweerde and Vinoodh Matadin and play different characters. One of those actresses was the blonde and innocent Jennifer Lawrence; another, a fearless redhead named Jessica Chastain. I was immediately taken by Chastain's personality and focus. That was her first cover shoot, and when we asked her to don a short orange wig, channel an ­androgynous David Bowie, and French-kiss one of her colleagues, she not only accepted the challenge without any resistance, she gave a stellar performance.
Since that day, Chastain has offered up many memorable performances. She has been nominated for two Oscars and has won a Golden Globe, and has become one of the most in-demand talents in Hollywood. And she continues to push herself: She has not lost her fearless attitude, on the set or off. I had the pleasure of working with Chastain again in the fall of 2012, for the cover story of the W Art issue. Chastain devoted an entire week to the undertaking, collaborating with all of the artists we had lined up. George Condo invited her into his studio, where he (literally) painted her and her dress, and Rineke Dijkstra photographed her in a white dress, with hardly a stitch of makeup.
When I asked Chastain to be on the cover of this issue, joining forces with the image-maker Steven Klein and W's visionary Fashion and Style Director, Edward Enninful, she was the first to urge us to defy convention, declaring that she is an actress, not a model. And, yes, Chastain is drop-dead gorgeous, but she is definitely more than just a pretty face.
In the following weeks, we put together inspiration boards, exchanged opinions, chose outfits, and conducted fittings, using fashion as a means of creating character and narrative. The plot changed many times along the way—leaving plenty of space for improvisation on the day of the shoot, when the original "Derek Jarman Purple Hair Punk Queen" suddenly met her match as a modern "Platinum Blonde Teddy Boy. As Chastain tells Editor at Large Lynn Hirschberg, "I think of versatility as a good thing, but it does make it difficult for audiences to know you." Throughout the entire process, Chastain never expressed worry or doubt. She is the least vain person I have ever met, and her commitment to any project—small, like our shoot, or large, like a major-studio film production—is unswerving and absolute.
She's the exception to the rule. In the past decade, the relationship between Hollywood and magazines, between cinema and fashion, has devolved from a creative partnership into a calculated quid pro quo or, worse yet, a dry financial transaction. More than ever, ­celebrities and editors alike seem to aspire to the lowest common denominator. In movies, too, images and stories are designed to be easy to digest in every language by all audiences; everyone has to be pretty and approachable; and every project has to be fast and efficient, because the clock is ticking and the cash register has to ring.
But creativity does not come on demand.
Talent and dedication are precious commodities. The history of W is full of immersive and labor-intensive collaborations, where photographers and actors really took the time—and the risk—to go further and show a different face, to play new roles, to inspire.
Not surprisingly, those challenging and often thrilling portfolios—Brad and Angelina, shot by Steven Klein; Tilda Swinton, photographed by Tim Walker; George Clooney, in cahoots with the artist Yayoi Kusama—are the ones that our readers return to again and again, if not in our pages (yes, some of these issues have achieved collector's item status), then on our website and on social media. What's your most memorable W moment? We invite you to post a photo to your Instagram account and tag it #ratedW.