For Stephanie Seymour, Designing Lingerie Is a Family Affair
The model spent a snowy night at Barneys New York with her sons, who came out despite the snow and Fashion Week to launch mom's new lingerie line.
---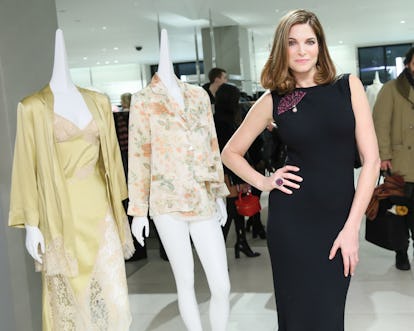 Angela Pham/BFA.com
Though a blizzard had just swept through New York, Thursday night found Stephanie Seymour perfectly cozy on the sixth floor of Barneys New York in Midtown, where she'd kicked off both Fashion Week and her new lingerie line with a "slumber soirée."
"These are awesome shoes," she said, picking up a pair of green Manolos. "This is sensory overload. I love Barneys."
More important, though, were the surrounding pieces that make up Raven and Sparrow, her new vintage-inspired lingerie line drawing on her decades of modeling experience—including, of course, for Victoria's Secret—but that's been officially in the works for about two and a half years.
"I just kept designing and designing and designing and designing, because I wanted to share what makes me feel good, which is going to bed at night," Seymour said. "My friends tease me about it, but dressing for bed is a part of my life."
Don't get her wrong: "I don't spend hours and hours—sometimes I forget to wash my face," Seymour clarified with a laugh. "But the reason I really believe in putting on a pretty nightgown or nightie or little chemise and boxers, rather than just boxers and a big ugly t-shirt, is that I believe it changes your life because it changes how you feel about yourself."
Most often, though, that usually means covering up. "I've been a mother for the majority of my life, so I've had to wear pretty modest sleepwear, and I just find it sexier. It's part of my style," she said.
As it turns out, despite their shenanigans, her sons, aka the Brant brothers, definitely err on the side of modesty, too. "They're very opinionated, and they had plenty of opinions on what they did not like, that's for sure. I wear everything [from the collection] a lot, because I have to believe in it completely as a piece and know how it's going to wash and look, how I feel, and how my body moves," Seymour explained. "And I always ask them for their opinion. But it's probably easier to look at me in modest—I am their mother," she added with a laugh.
Not that that makes them any less supportive. "She's gotta do what she's gotta do," Harry Brant whispered to sister Lilly Margaret, waiting patiently for mom before eventually leaving to go to dinner with Peter Brant, his dad. (Not to worry: all planned to meet up again later in the night, what would be just the start of what looks like will be many hangs this week.)
"I just love taking my boys anywhere, and they love going with me to Fashion Week," Seymour said of the shows ahead. "They love fashion, and I'm really proud that I was able to give them that gift—because it is a gift."
Of course, in that time, Valentine's Day will be approaching soon, too. Seymour has no plans as of yet, "but I hope I get some kisses—from all my favorite boys," she said with a laugh.
As for what Raven and Sparrow piece she'll be wearing? "Well, that's a secret."
Kate Moss on How Photographers "Always Ask" Her to Take Her Clothes Off: