At Home with Stéphanie Watine Arnault, the Fashion Royal and Founder of Clos19
Inside the London home of Stéphanie Watine Arnault, who aims to redefine chic entertaining with Clos19.
---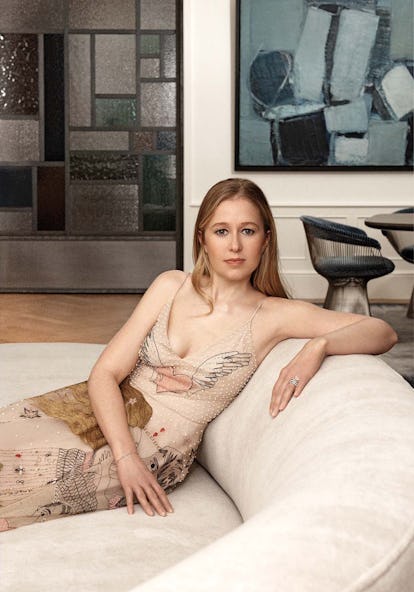 Photographs by Hans Neumann
It's not easy being an Arnault. "The family name is a lot of responsibility," says Stéphanie Watine Arnault of her rather high-class dilemma. "Failure is not an option." Not that the 34-year-old niece of the LVMH chairman and CEO, Bernard Arnault, has had any trouble entering the family fray. Last year, she launched Clos19, a digital platform that offers a range of luxe entertaining options, centered around Dom Pérignon, Moët & ­Chandon, and Krug, all part of LVMH's stable of champagne and fine spirits brands. "We're not selling bottles, we're selling lifestyle, with a touch of hedonism," says the blonde Parisienne, whose drink of choice is a martini with "just the zest of the lemon" before, or perhaps after, dinner.
Clos19—named for the French term for a walled vineyard and the 19th century, when champagne began being widely consumed—has launched in the U.S., the U.K., and Germany, and will send everything and ­everyone you need to stage the perfect soirée: hard-to-find vintages, mixologists, glassware, sommeliers, and waiters. But as an "experience" business, the company can also take you on a tour of the finest wineries in France, or even to Antarctica on one of its catered adventures (a $94,500-per-person, eight-day trip includes champagne at the South Pole). "We live so much through the screen, it's good to focus on creating wonderful happenings in real life," Watine Arnault says. "I knew Clos19 needed to be a digital company, but I'm still the sort of person who likes to send handwritten Christmas cards."
She's also the sort of person who knows a thing or two about throwing a party. This past September, she married Cyrille-Alexandre Joly, a civil engineer she first met when she was 20; their wedding reception took place at La Colle Noire, the château in the South of France acquired by Christian Dior in 1951 that is now owned by LVMH. At her wedding, there were roses everywhere—"Dior loved them," she says—and the bride wore a billowing Dior gown for the ceremony. "It was tulle because I wanted something light. I couldn't be a bride in a 90-pound dress." For the dance party, she changed into another dress, this one inspired by the Junon design from Dior's fall 1949 collection, with an exquisitely petalled skirt. The 135 guests sat at a 164-foot-long table and drank Moët & Chandon from 1983, her birth year. "It had been a warm summer," she says, smiling, "and you could taste the sweetness in the champagne."
Watine Arnault was born in the north of France, in Roubaix, near the farm where her father trained horses. In 1990, the family moved to Paris, where she "never left the 7th arrondissement until I moved to New York in 2006. I've known the local florist, Monsieur Moulié, in the Place du Palais Bourbon, all my life. He used to give me peonies when I was little." She grew up steeped in art and design. Her mother, Dominique—Bernard's sister—ran the Etude Dominique Watine Arnault ­auction house and then became the president of Fred, the jeweler owned by LVMH, until her untimely death, in 2006, when Stéphanie was just 22. "She had impeccable taste and knew everyone in the French art world," Watine Arnault recalls. "But when it came to my own career, I knew I was more interested in business than art."
After studying for a master's degree in marketing and strategy at l'Université Paris-Dauphine, Watine Arnault headed to Marc Jacobs in Manhattan, where she worked on product development. "We came up with the Mercer, the soft bag with studs on the side, that—crucially, back then—had to be the right size for a laptop," she says. Returning to Paris, she got an MBA in entrepreneurship at INSEAD, the quintessential French-business boot camp, driving to classes every day through the Fontainebleau forest in her Mercedes SLK with the top down. "Even in the winter! There's nothing better than the smell of the trees."
Now she and Joly live close to Hyde Park, in London, where they moved in 2011. At first, they rented a mews house in Marylebone—"cute but dark," Watine Arnault says. It took them two years to find the South Kensington aerie they now call home. After an extensive renovation by the British designers March & White, the pair moved in a year ago. The hallway, with its rough brick walls and huge skylight, feels like a slice of Manhattan; the elegant sitting room, with its painted-panel walls, is pure Paris. "I wanted to reflect the cities I love," she says. "But most of all, I wanted to be comfortable, surrounded by things with meaning. I hate the idea of living in a museum."
Many of her most treasured pieces she inherited from her mother: a pair of occasional tables with curving gold legs by the French designer Elizabeth Garouste; a northern-French beach scene by Massimo Vitali; a painting of Lake Maggiore by Valerio Adami so magnificently large it had to be taken out of its frame and rolled up to get it into the apartment. The luscious flower arrangements Watine Arnault does herself. "Freesia and roses—I get them from Whole Foods on Kensington High Street. I was in a nail bar and overheard another woman say how good their flowers were. It turns out it was good advice!"
Layered among the family heirlooms are more recent acquisitions, which signal Watine Arnault's own deepening taste: a pair of jaunty paintings by the young French artist Camille Henrot and a remarkable work by the Japanese artist Chiharu Shiota, in which a child's dress is entrapped in a web of intricately woven red thread. "My husband thinks it's really creepy," she says, laughing. Some of the Baccarat on tables comes from the first of her two wedding registries—one was online at Le Bon Marché, the other analog at Dior. "They haven't gone digital at Dior yet," she notes in amazement, though, as it happens, her older brother, Ludovic, is working on that initiative right now.
Meanwhile, Watine Arnault runs her own business from offices near Victoria Station. "It's a small team," she says. "Fifteen great people whom I need to inspire. People will only do what they want, so you have to make sure they want what you want." Surely, Uncle Bernard would agree.