Stephen Colbert Asks Anthony Scaramucci if Donald Trump "Orders His Spine on Amazon Prime"
How Colbert and the rest of the late-night crowd responded to the weekend's white supremacist rally and ensuing terror attack in Charlottesville, Virginia.
---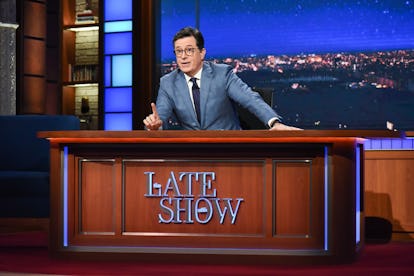 CBS Photo Archive/Getty Images
On Monday night, late-night shows resumed for their first episodes since the neo-Nazi rally in Charlottesville, Virginia, and subsequent domestic terrorist attack that left one woman, Heather Heyer, dead and injured 19 more. And, unlike the president, Jimmy Kimmel, Jimmy Fallon, James Corden, Seth Meyers, and Stephen Colbert came equipped to unequivocally indict the rally, its participants, and the president's two days of inaction. (In a moment of apparent ad-libbing on Saturday, shortly after the alleged attacker James Fields, Jr., drove his car into a crowd of peaceful protesters, Donald Trump condemned the violence "on many sides;" GQ's Jay Willis wrote that he "seemed medically incapable" of anything stronger—until two full days later.)
At the same time, protesters filled Fifth Avenue outside Trump Tower, where the president is reportedly staying through Wednesday. On TV, Colbert, in particular, offered a 10-minute opening monologue, which set the stage for his guest for the night: short-tenured White House communications director Anthony Scaramucci—and as it appeared during his interview, even the Mooch has an easier time disavowing Nazis and white supremacists than the president himself.
"The president blew the easiest condemnation of all time," Colbert opened. "Nazis are bad. The KKK? Not a fan," he added. "That was easy. I enjoyed saying it." Like Corden did on The Late Late Show, Colbert reeled off a list of things Trump has come out more strongly against, especially on Twitter: "If only the president were as mad about neo-Nazis as he's been about Hillary Clinton, the New York Times, CNN, Joe Scarborough, Kristen Stewart, the cast of Hamilton, Diet Coke, Nordstrom not selling his daughter's clothes, Arnold Schwarzenegger, the mayor of London Sadiq Khan, me," he said.
Indeed, it hardly took Trump more time to fire Colbert's guest Monday night, Anthony Scaramucci, who at 10 days holds the dubious honor of shortest tenure at the Trump White House. Mooch gonna Mooch—despite his unceremonious boot from the West Wing, he continued to spin statements in Trump's favor and take cheap shots at Steve Bannon and Reince Priebus—but, unlike many softball interviews Trump appointees (and, pre-election, Trump himself) have been afforded during late-night, Colbert did not let him off the hook on Monday night.
"Nazis, good or bad?" Colbert asked, his first question for Scaramucci. "Super bad. We know that," the former communications director responded. (Of course, as the president has proved, it's far easier to take this stance several days late.) "Super bad," Colbert echoed. "Why do you think the president, who you called 'the most media-savvy person of our times,' would shank a softball like that so hard when he should have just come up there and condemned the people who were there to start violence?"
"He should have been way harsher on that, I said that," Scaramucci said. "He should have condemned white supremacists and neo Nazis." (Of course, he added, "You guys have been super rough on me and super rough on him, but he is a compassionate person." However, Scaramucci still begged for leniency for Trump, describing his statements about how much he had given up for the presidency (luxury hotels, real estate mogul-dom, reality television star-dom, vacations that don't involve taking work calls because the president is never really off-duty) as "him wearing his heart on his sleeve" and "him expressing himself" and explaining that Trump, when faced with particular media expectations, "sometimes does the exact opposite." Like, failing to condemn white supremacy until two days later—but, Scaramucci said, "let's be fair to him today. He did condemn the Nazis."
It was here, midway through their interview, that Colbert dropped the mic: "Two days later. Does he order his spine on Amazon Prime? Why did it take so long?"
As Colbert's interview with Scaramucci turned to the inner workings of the White House (and it is also worth noting the world-class slimeball pulled out his reflective aviators before he had even departed the stage), the rest of the late-night contingent also offered their reflections. Seth Meyers presented a sobering history of Trump's endorsement of racist and xenophobic policy proposals and campaign platforms, calling birtherism "racist and insane."
"Donald Trump did not immediately denounce the white supremacist movement when given a chance, and now, whether he knows it or not, many of those people see him leading that movement. The leader of our country is called the president because he's supposed to preside over our society. His job is to lead, to cajole, to scold, to correct our path, to lift up what is good about us, and to absolutely and unequivocally and immediately condemn what is evil in us," Meyers said. "If he does not do that, if he does not preside over our society, he is not a president. You can stand for a nation or you can stand for a hateful movement, but you can't do both."
The Jimmys—Fallon and Kimmel—also devoted their opening monologues to the events in Charlottesville. Fallon, noted hair-ruffler of Donald Trump, characteristically couched his statement with a disclaimer: "Even though The Tonight Show is an apolitical show…" he began, his tone as restrained as that of Meyers.
But Kimmel came on strong: "We went into the weekend worrying about Kim Jong-un starting a war; we came out of it wondering if our president is cutting eyeholes out of his bedsheets," he said. "There were two sides, not 'many sides,' and one of those sides had Nazis on it. All he had to do was condemn the Nazis," he added. "It's not exactly a controversial stance."
Samantha Bee and Jason Jones, Daily Show alums and real-life couple, on falling in love: