Scaramucci and Spicer Prove the Trump Administration is Just One Giant Bid to Get More TV Screen Time
Between Scaramucci on Colbert and Spicer throwing himself at SNL, getting fired from the White House is the best thing that can happen for your TV career.
---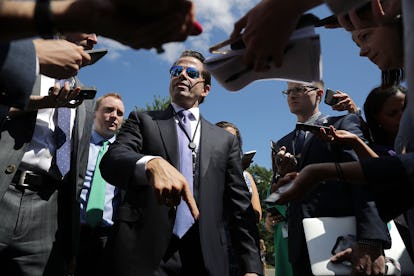 Chip Somodevilla/Getty Images
It shouldn't come as a surprise that a former reality TV star would turn the U.S. government and the White House into an actual reality TV show, but the degree to which Donald Trump has employed his infamous "You're fired" slogan since he's been in office suggests he's essentially executed the next season of Survivor, but on the Potomac instead of an exotic island.
While a good chunk of Trump's initial hires have resigned or been dismissed in the past six months, it's finally becoming clear what united all of them in the first place, besides a personal tie to Trump: a shared love for appearing on television! Soon after Sean Spicer resigned from his position as Trump's press secretary, he met with ABC to discuss the possibility of an appearance as a contestant on Dancing with the Stars. He had been beat there already by Trump's Energy Secretary, Rick Perry, who went on the show in 2016 having lost the 2012 Republican primary to Mitt Romney.
"My dancing experience is almost new. In the last 15 years, I've danced four times in public," Perry said with a smile in his introductory video on the show, pointing out that he's nonetheless been onstage many times in his tenure running for governor and president—and even fallen in front of four million people. "This gives me the opportunity to fall in front of 10 million people!" he added ebulliently. (He was eliminated from the competition after three weeks.)
This week comes news that Spicer may not be able to appear on a full season of Dancing—he claims he had a scheduling conflict—but he is eager to make a cameo on Saturday Night Live, where Melissa McCarthy ruthlessly satirized his bumbling press secretary persona, an impression that may have ultimately cost him points with his boss.
Meanwhile, Anthony Scaramucci, who replaced Spicer as the White House's communications director for a total of 10 days, has found his short tenure may even be made into a movie whose working title is Attack of the Swamp Monsters.
But first, Scaramucci is attempting to tell his own story by appearing on The Late Show with Stephen Colbert on Monday. (The host is preparing for another explosive encounter: "This is just a heads up for our censors to get ready!" he tweeted along with the news.)
Comedic as it's been on its own, Trump's term has of course been satirized further in the media—fresh off her win for Best Actress at the Cannes Film Festival, Diane Kruger portrayed Trump's prized counselor Kellyanne Conway for a Funny or Die spoof. She had already been portrayed on SNL by Kate McKinnon while Ivanka Trump was played by none other than Scarlett Johansson.
It looks like there's another reason that, throughout all the dismissals, Conway has remained decidedly by the president's side: She beat all the rest of the cabinet to the media game back in the '90s—and, should she eventually leave the White House, made herself the likeliest candidate to land a role on-screen—when she tried her hand at stand-up comedy. Her very insider-y D.C. routine—which of course included a dumb blonde joke, and in which she anointed herself a "pundette"—included a "joke" comparing media polling to a "small Jewish wedding on Long Island."
No wonder she and Trump get along so well. It was just a few years before that, in what was unfortunately not a stand-up routine, that Trump, then still working in real estate, gave a provocative quote to Esquire: "You know, it really doesn't matter what the media write as long as you've got a young, and beautiful, piece of ass," he said with the smarmy brio of a man who had once pitched hosting a TV show judging supermodels.
Of course, the biggest TV and movie screen hog of all is the president himself, who counts 25 credits as an actor, including cameos on Sex and the City, Suddenly Susan, The Drew Carey Show, The Nanny and, of course, Spin City.
Related: The Kellyanne Conway Story Trailer with Diane Kruger is an All Too Relevant Lifetime Spoof
See W's most popular videos: