Scaramucci, Priceless Gift to Comedy, is Ousted and Everyone Reacts the Same: With Laughter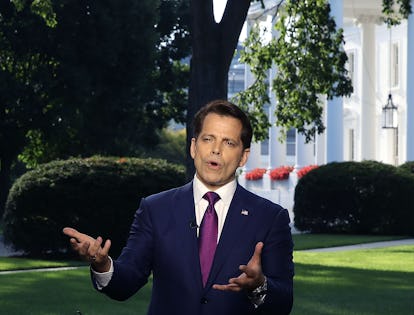 Mark Wilson
The thing about watching our democratic institutions devolve into absurdity is that it is often as shockingly hilarious as it is scary and worrisome. On news of the ouster of Anthony Scaramucci after just ten days on the job—to be accurate, he had not even been officially sworn in as White House communications director—the entire internet couldn't help but react with unbridled laughter.
It was, basically, the perfect punchline to Scaramucci's brief stint on the job. His most notable contribution—besides hastening the exit of Sean Spicer—was an unhinged and profanity-laden interview he gave to The New Yorker in which he took aim at former chief of staff Reince Priebus and threatened that the entire existing White House communications staff would "fired over the next two weeks."
While Scaramucci did manage to outlast Priebus, the irony is that it was reportedly the decision of new chief of staff John Kelly to show Scaramucci the door. According to CBS News White House correspondent Jackie Alemany, he was reportedly escorted off of the premises.
The entire whirlwind episodes seemed like it could have been a collaboration between the writer's rooms of both HBO's Veep and Curb Your Enthusiasm, and the internet response was similar to one you might have while in the middle of a binge of either show.
There was laughter from the mouths of professional comedians….
…and the newsroom of The Washington Post:
Kal Penn just added this necessary commentary to Scaramucci's last tweet:
Chaka Khan also broke out the "lmao."
Trump Twitter blocking victim Chrissy Teigen was succinct in signifying laughter, before getting real:
Bette Midler, straddled the line between reveling in the hilarity while remembering the gravity of the situation.
Mark Ruffalo acknowledged the joke, but wasn't particularly amused by it all:
Chelsea Handler provided her own joke.
All sorts of "blue checkmark" Twitters basically had the same reaction:
When Sam Stein, Politics Editor for The Daily Beast, seemed to suggest that indeed this wasn't a funny story, the internet wasn't having it.
Related: Five Theories Explaining Why Mike Pence is Dressing Like Donald Trump
See What's Trending in W Video: