The Kellyanne Conway Story Trailer with Diane Kruger is an All Too Relevant Lifetime Spoof
Fresh off her Best Actress win at Cannes, Diane Kruger takes on Kellyanne Conway in a Lifetime network spoof for Funny or Die.
---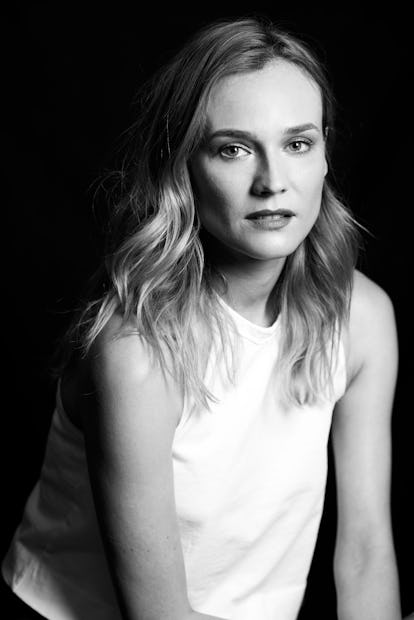 The definitive take on Kellyanne Conway may belong to Saturday Night Live's Kate McKinnon's twisted cartoon version, but one of the most complicated, public and intriguing members of the Trump administration certainly opens herself to more than one interpretation. Alternative acts, if you will. Enter Diane Kruger, fresh off her win for Best Actress at the Cannes Film Festival, to offer a more melodramatic version in The Kellyanne Conway Story.
Playing just like a '90s Lifetime network movie, the trailer is actually for a Funny or Die production and an apparent spiritual sequel to the website's Trump-themed mini-movie starring Johnny Depp (who does not return).
Kruger plays Conway accurately as a devotee of Ted Cruz who originally laughs off Donald Trump as a danger to democracy like most of the rest of D.C. insiders and fears his chances of winning over a glass of white wine. But once Cruz drops out, Conway is quickly seduced by the limelight and power that hitching herself to the Trump train affords her, even if at first she tries to stay true to her moral compass.
"I know what you like," says Donald Trump (who is played by Christopher Meloni, naturally). "The attention. The power. Thirty percent off Ivanka's stuff."
Even fictional Melania Trump (Genesis Rodriguez) and Mike Pence (Ben Feldman) are taken back by Conway's sudden shift from maintaining integrity to being seduced by hearing her own voice on cable news.
"Kellyanne, where are you? Your eyes, they are dead. I did not sign up for this," cries Meloni as Trump.
Meanwhile Trump seduces Conway into the world of alternative facts and imagined witch hunts. In fact (or perhaps not in fact, who knows), there's also a few extended clips on Funny or Die, including one that explains the birth of "alternative facts."
We're assuming that a full-length mini-movie is on its way.
Though, there is no shortage of other Trump campaign-themed productions on the horizon in which more fictional takes on Conway are sure to appear. HBO and the team behind Game Change is already working on a Trump-themed miniseries (we've said it before and we'll say it again, but anyone who has seen To Die For knows this a role for Nicole Kidman). Plus, who knows, a Conway character might show up in the next election-themed season of American Horror Story.
Related: Kellyanne Conway Buys $7.8 Million D.C. Home in Attempt to Become Beltway Socialite
Diane Kruger Doesn't Know What it Means to Be a Muse:
Diane Kruger Is the Queen of the Red Carpet
Diane Kruger attends the Golden Globes.

Dan MacMedan
Diane Kruger attends the Inglourious Basterds premiere held at the Palais Des Festivals during the 62nd International Cannes Film Festival on May 20, 2009 in Cannes, France.

Michel Dufour
Diane Kruger attends the amfAR Cinema Against AIDS 2009 benefit at the Hotel du Cap during the 62nd Annual Cannes Film Festival on May 21, 2009 in Antibes, France.

Dominique Charriau
Diane Kruger attends the Palme d'Or Award Closing Ceremony held at the Palais des Festivals during the 63rd Annual Cannes Film Festival on May 23, 2010 in Cannes, France.

Sean Gallup
Diane Kruger attends the Costume Institute Gala Benefit to celebrate the opening of the "American Woman: Fashioning a National Identity" exhibition at The Metropolitan Museum of Art on May 8, 2010 in New York City.

Rabbani and Solimene Photography
Diane Kruger during 2007/2008 Chanel Cruise Show Presented by Karl Lagerfeld at Hangar 8 in Santa Monica, California, United States.

Jason Merritt
Diane Kruger during 2007 Vanity Fair Oscar Party Hosted by Graydon Carter – Arrivals at Mortons in West Hollywood, California, United States.

Gregg DeGuire
Diane Kruger attends the "Alexander McQueen: Savage Beauty" Costume Institute Gala at The Metropolitan Museum of Art on May 2, 2011 in New York City.

Kevin Mazur
Diane Kruger during The 78th Annual Academy Awards – Arrivals at Kodak Theatre in Hollywood, California, United States.

Dan MacMedan
Diane Kruger arrive at the 82nd Annual Academy Awards at the Kodak Theatre on March 7, 2010 in Hollywood, California. on March 7, 2010 in Hollywood, California.

Steve Granitz
Diane Kruger arrives at the 15th annual Critics' Choice Movie Awards held at the Hollywood Palladium on January 15, 2010 in Hollywood, California.

Jason Merritt
Diane Kruger arrives at the 2012 Vanity Fair Oscar Party hosted by Graydon Carter at Sunset Tower on February 26, 2012 in West Hollywood, California.

John Shearer
Diane Kruger attends the 16th Annual Screen Actors Guild Awards at The Shrine Auditorium on January 23, 2010 in Los Angeles, California.

Steve Granitz
Diane Kruger attends the Opening Ceremony and "Moonrise Kingdom" Premiere during the 65th Annual Cannes Film Festival at the Palais des Festivals on May 16, 2012 in Cannes, France.

Venturelli
Diane Kruger attends the "Amour" Premiere during the 65th Annual Cannes Film Festival at Palais des Festivals on May 20, 2012 in Cannes, France.

Venturelli
Diane Kruger attends the Closing Ceremony & Therese Desqueyroux Premiere during the 65th Annual Cannes Film Festival at Palais des Festivals on May 27, 2012 in Cannes, France.

Venturelli
CDiane Kruger arrives at 2012 amfAR's Cinema Against AIDS during the 65th Annual Cannes Film Festival at Hotel Du Cap on May 24, 2012 in Cap D'Antibes, France.

Venturelli
Diane Kruger arrives at Lynn Hirschberg celebrates W's It Girls with Lancome and Dom Perignon at A.O.C. on January 11, 2014 in Los Angeles, California.

John Sciulli
Diane Kruger attends the 72nd Annual Golden Globe Awards at The Beverly Hilton Hotel on January 11, 2015 in Beverly Hills, California.

Jason Merritt
Diane Kruger attends "The Sea Of Trees" Premiere during the 68th annual Cannes Film Festival on May 16, 2015 in Cannes, France.

George Pimentel
Diane Kruger attends the "China: Through The Looking Glass" Costume Institute Benefit Gala at the Metropolitan Museum of Art on May 4, 2015 in New York City.

Dimitrios Kambouris
Diane Kruger attends the 2015 CFDA Awards at Alice Tully Hall at Lincoln Center on June 1, 2015 in New York City.

Taylor Hill
Diane Kruger attends the opening ceremony and premiere of 'Everest' during the 72nd Venice Film Festival on September 2, 2015 in Venice, Italy.

Ian Gavan
Diane Kruger attends the 2014 Vanity Fair Oscar Party hosted by Graydon Carter on March 2, 2014 in West Hollywood, California.

David Livingston
Diane Kruger attends a premiere for 'Black Mass' during the 72nd Venice Film Festival on September 4, 2015 in Venice, Italy.

Vittorio Zunino Celotto
Diane Kruger attends the LACMA Art + Film Gala honoring Alejandro G. Iñárritu and James Turrell and presented by Gucci at LACMA on November 7, 2015 in Los Angeles, California.

Kevork S. Djansezian
Diane Kruger attends amfAR's Inspiration Gala in Los Angeles on September 9, 2015 in Hollywood, California.

Amy Graves
Diane Kruger attends The Weinstein Company and Netflix Golden Globe Party, presented with FIJI Water, Grey Goose Vodka, Lindt Chocolate, and Moroccan Oil at The Beverly Hilton Hotel on January 8, 2017 in Los Angeles, California.

JB Lacroix
NEDiane Kruger attends the "Rei Kawakubo/Comme des Garcons: Art Of The In-Between" Costume Institute Gala at Metropolitan Museum of Art on May 1, 2017 in New York City.

Dia Dipasupil
Diane Kruger arrives at the amfAR Gala Cannes 2017 at Hotel du Cap-Eden-Roc on May 25, 2017 in Cap d'Antibes, France.

Andreas Rentz