Steve Aoki and BTS's "Waste It on Me" Music Video: A Guide to the All-Asian Cast
The music video for the K-pop band's first English track features an all-Asian cast.
---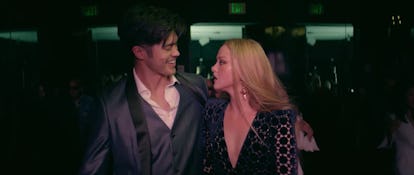 Steve Aoki and BTS are celebrating Asian pride in the music video for "Waste It on Me," released Monday, which features a cast of prominent Asian talent.
Though BTS themselves are nowhere to be seen in the video for the internationally lauded K-pop boy band's first English track, Aoki appears alongside some heavy-hitting superstars, including Jamie Chung, Ken Jeong, the 13 Reasons Why star Ross Butler, and Aoki's supermodel sister, Devon Aoki. The premise of "Waste It on Me" follows Jeong as a waiter in a club who is in love with Devon. After she enters the club with Butler, hilarity ensues.
An appearance from Jimmy O. Yang also makes for a Crazy Rich Asians reunion (he starred in the box office record breaker this summer alongside Jeong). Vincent Rodriguez III, who plays the air-headed hottie Josh Chan on Crazy Ex-Girlfriend, does his fair share of lip-synching for the camera, and so does Westworld's Leonardo Nam. Jessica Lu, Ben Baller, Jared Eng, Jinny Chung, and Tiffany Ma make cameos in the music video as well. "We brought out the whole family for this one," Butler tweeted, along with a preview clip of the Joe Hahn–directed video, before it officially premiered.
"It's bigger than music, and we hope to show other Asians they are also a part of the global commercial musical landscape," Aoki said in an interview with People. "I feel so deeply about the Asian footprint in music culture that I wanted the music video to have an entirely Asian cast and director," he went on.
The track's placement on the Billboard Hot 100 should come as no surprise. After all, BTS was already the first K-pop band to hit the top of the Billboard charts earlier this year, and Aoki continues to be one of the most popular EDM DJs in the world. The band, however, was embroiled in a scandal last week when photos resurfaced from 2014 of one member wearing apparel depicting the atomic bombing of Japan by the United States and what appeared to be Nazi SS insignia. The band's agency, Big Hit Entertainment, wrote an apology that stated, "We would like to offer our sincere apologies for inadvertently inflicting pain and distress to anyone affected by totalitarian regimes in the past…[and] those affected by the use of atomic weapons," and insisted that the agency "does not support any organizations or groups oriented towards political extremism and totalitarian beliefs including Nazism" on Facebook. Since the photos resurfaced, members of the band have yet to publicly respond.
Related: Watch Céline Dion and Steve Aoki Give My Heart Will Go On an EDM Remix