A New Standard in Summer Weekend Travel
When the jitney is far too pedestrian and any old charter won't do, now there's the new StndAIR seaplane from André Balazs and The Standard Hotel, making its first flight today and running through...
---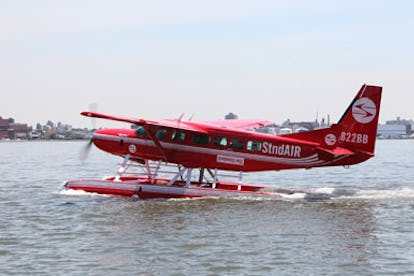 True to Standard form, the cherry-red Cessna 208 Caravan Amphibian aircraft takes it a step further than peanuts and soda: on-board there's André Balazs Rose, Sweedish Fish, StnAir Branded water, and a Standard flight greeter at departure and arrival. The plane is available for charter to any East Coast destination within a 300-mile radius of New York (Nantucket, Martha's Vineyard, Cape Cod, Hudson Valley) and offers scheduled flights during peak times between New York City and East Hampton. Package deals will also be offered to Standard New York and Sunset Beach hotel guests. One caveat? The plane only seats 8, so you might need to book a few round trips to accommodate your clam bake guests.
And if booking on Expedia is too banal, StndAIR offers a uniquely competitive pricing model for select flights (and by competitive, we don't mean comparable with big-name airlines): the first person to book a ticket receives the lowest price and there's a sliding price scale that increases as more people sign up, the first group to fill a flight to one location gets the confirmed charter. Our advice? Get seven of your friends to book immediately—you don't want a faster group stealing your charter.
To book, head to stndair.com, email reservations@stndair.com, or call 855-STND-AIR between 8am and 8pm.