What to Stream When Your Plans Get Canceled
If you find yourself canceling your plans in the name of "social distancing," these are the longterm binge watching projects for you.
---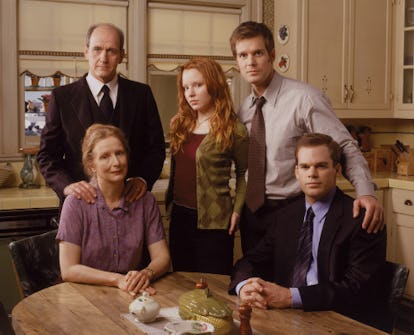 Photo courtesy of IMDb
With "social distancing" the watchwords of the day, entertainment options are dwindling by the minute. No more concerts, no more Broadway shows, and no more going to the movies now that the coronavirus is officially a pandemic. You might groan at the thought of sitting inside all day, or maybe you are really excited about not having to change out of your pajamas, but either way you are about to have a lot of free time on your hands.
But think of it this way—now is your chance to finally catch up on every episode of that prestige show you were told to watch years ago but never got around to it and now it's like a decade later and all of your friends have moved on to another prestige show (or like, maybe they're about to get really into Quibi or something instead) and you still have no idea who "Dick Whitman" is. So, here are the (very long) TV shows we recommend for when your plans are canceled over the next few weeks.
Mad Men
It's so obvious, but also—there are somehow people in this world who still have not seen Mad Men. The ultimate treat is to be one of those people watching Mad Men for the first time. Hurry up and watch those seven seasons.
Where to stream: Netflix
The Good Wife
I feel like The Good Wife was on for a hundred years. Just kidding. But didn't it feel like it went on forever? The political drama that your mom and all her friends couldn't stop talking about aired from 2009 to 2016 and ran for seven seasons, and racked up a total of 156 hour-long episodes. That should hold you over, but if you somehow miraculously watch all of The Good Wife in the next few weeks and still want more, there's always its CBS All Access spin-off, The Good Fight, to scratch that itch too.
Where to stream: Hulu, Amazon Prime
Six Feet Under
You thought we were going to tell you to watch something else from the era of prestige dramas on HBO, like The Sopranos, didn't you? Well, yeah, obviously watch The Sopranos if you haven't yet. And though it may seem counterintuitive to binge watch five seasons of a series all about death, just trust that it's actually quite helpful and distracting and even very, very funny when you need it. So watch all of Six Feet Under for the next few weeks and see how you feel after.
Where to stream: HBO Go
House Hunters
There are so many vectors in the House Hunters universe. Of the 15 spin-offs, there's House Hunters International, Tiny House Hunters, and of course, House Hunters: Where Are They Now. Watch one of them. Watch them all. Maybe you'll find something soothing about watching people pick a house when you are actually stuck in your own house, or maybe it will be overkill. Either way, we all need a little bit of lobotomy content sometimes.
Where to stream: Hulu
Living Single
It's always surprising to hear the number of people who admit they've never seen Living Single (but have seen every episode of Friends).
Where to stream: Hulu
Grey's Anatomy
There has maybe never been a better time to catch up on the eighth-longest running primetime television series and its 16 whole seasons than right now. If you play your cards right, you might even get caught up to the point where you find out what happened to Alex Karev.
Where to stream: Hulu, Netflix