Five Minutes with the Streicher Sisters
Ashley, Kristie, and Jenn, the beauty experts (and siblings) behind L.A.'s Striiike, share their beauty secrets—as well as their teenage hits and misses.
---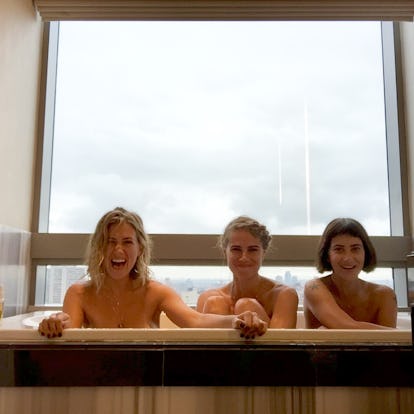 What's currently in your purse? Ashley: Smashbox Fireball lipstick and By Terry cover-up
Kristie: My pale pink Smashbox lipstick and Rhoto Eye Drops
Jenn: A lot of lipsticks, one pressed powder and these Japanese rose- scented eye drops. They come in this adorable little pink Chanel-like bottle. They're menthol-y, which I love feeling on my eyes. It kind of wakes me up.
What's your first beauty memory? Jenn: When I was about 4 or 5, my aunt Jeanie did my makeup. I'm not sure why, but it could have had something to do with a recent visit to Disney Land. I'd become obsessed with Snow White, who'd had this glossy red lip, and that's what aunt Jeannie gave me. I still have the Polaroid. It looked so pretty and I think about it all the time. She was the aunt who always had a lot of cosmetics.
Ashley: I'm 8 and 10 years younger than my sisters, so I remember them braiding each other's hair and going to the makeup counter with them. Jen had long cheerleader hair that she'd crimp. Kristie went to the prom with crimped hair and one of those hats with the top off of it.
Kristie: Watching my mom put her makeup on. She'd get these little ceramic pans of mineral makeup and make her own colors and bronzer. I'd watch her put on her makeup and tweeze out her chin hairs and be like, "Ew, Mom, you have a beard," and she said, "Oh, just you wait." And she was right.
What was your worst beauty blunder? Jenn: Our mom started giving us perms when we were way too young to have perms. Probably from age 7 to about 14. All I can remember are the fumes. She would rinse the solution out in our kitchen sink and we'd have to have a towel over our faces and I remember having a serious loss of oxygen.
Kristie: I shaved my head when I was 22 because everyone told me my hair would grow back really thick and curly, but that wasn't true. Then again, I had a deep forest green faux-hawk, so, really, where do you go from there?
What's your five-minute routine? Jenn: Tinted moisturizer that I blend in with a wet Beauty Blender, some kind of cream eye shadow (currently, it's Laura Mercier Rose Gold Eye Caviar Pen), mascara, definitely some brow gel and cheek.
Ashley: I get my hair wet and don't touch it, a little bit of concealer, always blush and mascara. And I darken my mole every day.
Kristie: Mascara, eyebrow gel, and a little color on the lips.
What's your pet beauty peeve? Kristie: Not blending makeup in enough. Like, when you can see the brow pencil lines in the brow.
Ashley: I'm really over the pastel hair color trend.
What are you currently obsessed with? Kristie and Ashley (in unison): Justin Bieber!
Jenn: The Ziip nano current skin care device by Melanie Simon. You don't really see that much of a difference right after you use it, but the next day, I was like, "Oh! My skin looks really good!"
Ashley, Kristie, and Jenn, the beauty experts (and siblings) behind L.A.'s Striiike, share their beauty secrets—as well as their teenage hits and misses.