Artist in Residence: Steve Powers
An ongoing series in which we invite ourselves over to see where artists work.
---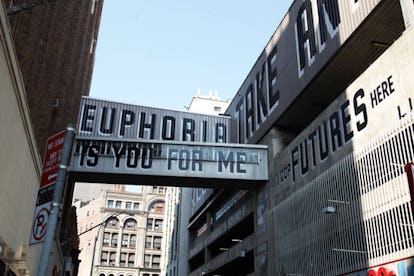 An ongoing series in which we invite ourselves over to see where artists work.
Much of downtown Brooklyn, which is home to both criminal courts and an unusually high concentration of chain stores and fast-food restaurants, is not particularly beautiful. Still, walking through the neighborhood last week I became so preoccupied by a striking text painting on an otherwise nondescript parking garage that I walked straight past the enormous, seemingly un-missable studio of artist Steve Powers. "Good," Powers said when I told him this. "That's the idea."
The writing on the wall, of course, was his.
Last year, the Downtown Brooklyn Alliance commissioned Powers—who rose to fame in the nineties under the graffiti pen name ESPO—to help beautify the neighborhood. It wasn't a new concept to him: After all, Powers spent many years as a spray-can vandal on a mission to turn crumbling street facades into attractive new works of art. (He eventually won a Fulbright scholarship to continue doing just that on a larger scale for derelict areas of Dublin and Belfast.) But in present-day downtown Brooklyn he's disarmed streetwalkers with his wordplay (which includes such horrible pick-up lines as "I Paid the Light Bill Just To See Your Face") painted in bold lettering across the concrete-and-steel facades that dominate the landscape.
"It's a hard area," Powers said. We stood on the sidewalk outside of his studio. "Something like this helps relieve the pressure a little. The people who grew up here—they love it. It speaks to where they're coming from." The artist's early days on the streets were spent arousing the ire of Rudy Giuliani, among others. (Powers was arrested in 1999 after organizing a protest against the then-mayor, who had attempted to censor the infamous "Sensation" exhibition at the Brooklyn Museum—a protest that encouraged passersby in Washington Square Park to fling artificial poo at a portrait of Giuliani.) Eventually, though, Powers realized that "it was time to grow up," and soon he started his studio practice in what he described as a "tiny shoebox."
Almostly immediately, Powers and his co-conspirators Barry McGee and Todd James were helping to make Jeffrey Deitch a big name in the downtown Manhattan art scene—their seminal 2000 group exhibition Street Market was, as ex-Deitch Projects director Kathy Grayson once said, "the show that made everyone really care about the gallery."
Now, he said, looking around his 5,500-square foot storefront space, "I'm in this gigantic supermarket of ideas." Aisle after aisle of posters, paintings, and signs in a Pop Art palette, along with heavy machinery (many of the paintings are on thick sheets of aluminum) fill the space.
Each day, Powers tries to finish a small enamel-on-aluminum painting, which he refers to as his "daily meditation." Often they consist of an illustrated object accompanied by an aphoristic phrase ("Money Folds/I Don't," for example).
Next month Powers will open his first gallery show since the shuttering of Deitch Projects two years ago at Joshua Liner in Chelsea. Expect to see lots of his favorite daily meditations, though refashioned into grander, more complex iterations.
Visit firstandfifteenth.net