Shooting Stars
Looking back through 40 years of W archives, Lynn Hirschberg traces the long and winding lineage of American style icons— from Faye Dunaway and Barbra Streisand to Scarlett Johansson and Rooney Mara. It's a story made for (and by) Hollywood.
---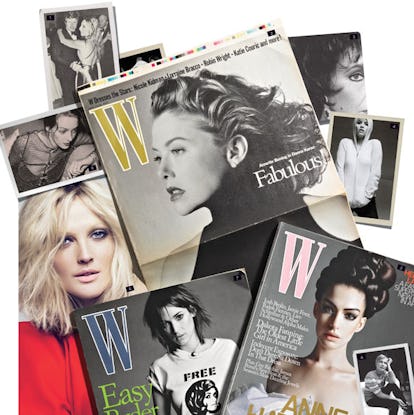 In America, democracy has produced many wonderful things, but our lack of royalty—along with a ­history that spans only 236 years—has wreaked havoc on the production of style icons. Yes, occasionally, a First Lady like Jackie Kennedy dominates the ­spotlight—and much as they would with a favorite princess, women admire her clothes, her taste, her everything. But Jackies are rare, and in a country most famous, design-wise, for inventing the blue jean, icons can only be reliably found in one fascinating, wondrous place: Hollywood.
From the earliest days of silent films, designers, costumers, and makeup artists have taken attractive women and transformed them into personas. Because of the impact of movies on this country and the world (film and television generate $13.5 billion from exports alone), those newly hatched stars have become influential all over the globe. When, for instance, a team of Hollywood experts took a pretty brunette and dyed her hair platinum blonde, Marilyn Monroe was born. When another team poured her into a white halter dress with a skirt that would blow up just so when she stood over a subway grate, Hollywood invented a style icon for the ages.
From the beginning, the movies were a glorious mashup: Hollywood artisans would absorb the best of other, older worlds—from, say, Elizabethan England or the French aristocracy or ancient Greece and Rome—and then fuse that design, attitude, and sensibility with an American perspective. The results were movie stars who had the patina of class and history—and, occasionally, the aura of royalty.
Movies bestowed a certain glow of perfection; even in their off-camera lives, actresses seemed a little more divine. Not only were they famous, but, having been chosen for their beauty and talent, they became worthy of emulation. In most cases, their public personalities—the way they dressed, primarily—overshadowed the roles they played on camera. More people remember Marilyn in that white dress than saw the film in which she wore it: The Seven Year Itch has come and gone, but a great style icon is forever.
The star-making machine is harder to crank up today. In the past 40 years, during W's lifetime, movies have become more fragmented. In 1972, when icons like Faye Dunaway, with her elegant bearing and her leggy blonde-ness, began appearing in the magazine, the studio system in Hollywood was coming to an end. Gone were the brilliant teams of hair and makeup artists who had the power to transform. Style was now in the hands of the individual, which is why Ali MacGraw integrated her own wardrobe into Love Story and Barbra Streisand let her curly hair go natural in A Star Is Born. Both women were widely imitated—­MacGraw's preppy look influenced not only women but also designers like Ralph Lauren and Michael Kors. In many ways, Love Story–era MacGraw has come to define American style: sporty, clean-lined, with a few quirky twists like the crocheted cloche hat she wore in the film, which became a kind of icon of the seventies.
The next decade or so saw the emergence of eccentric beauties. Julia Roberts, with her almost too-plush lips and coltish legs, was an instant smash in Pretty Woman. The movie was an ode to consumerism: The shopping-spree scene in particular, set to music, pushed not only the idea of pleasurable capitalism but the mantra of style as a transformative vehicle. Through the power of clothing, Roberts's character—and ­Roberts herself—went from invisible to captivating almost instantly. Madonna, too, emerged in the eighties in Desperately Seeking Susan. An ode to Madonna's East Village–centric, lingerie-model-meets-biker-on-top-of-a-wedding-cake sense of personal style, the movie propelled the Material Girl toward superstardom. Madonna has gone on to reinvent herself as everything from an S&M bondage vixen to an Italian neo-realist pinup, but like first love, the initial iteration of cinematic ­Madonna—ripped stockings, black bra, short skirt, see-through top, dozens of bangles—is the most enduring.
Every action has a reaction, and in the nineties, clean, streamlined stars like Gwyneth Paltrow reigned. With her Upper East Side breeding and her lanky skinniness, Paltrow was an overnight sensation with the fashion crowd, gaining notice in a couple of costume dramas—Emma, in which she managed to look svelte even in Empire-style gowns, and Shakespeare in Love, for which she won the Oscar for best actress. Like icons of old, Paltrow also dressed off-camera, along the way becoming a muse for such designers as Stella McCartney. In fact, Paltrow's major style status has arguably outstripped her acting career: While she appears in many ads, she no longer scores leading roles in movies.
A similar fate, albeit with a darker twist, has befallen Lindsay Lohan, who began acting as a child. Although talented and very pretty, she has been the victim of a devastating (and very American) combination of drugs, alcohol, reckless behavior, and what seems to be an excess of plastic surgery. After starring in Mean Girls in 2004, her future looked bright, but despite her sense of style, Lohan, who idolizes the icons of the past, has not absorbed their lessons: It's always been work plus style that makes you a star—not rehab.
In the past decade, Angelina Jolie has become a legend—due more to her gorgeous, sultry looks and sex-bomb-meets-saint persona than her sense of style. Though Jolie seems to regard fashion as frivolous, a new generation of American actresses has emerged in the past few years that views fashion as a mix of fun and self-expression. Jessica Chastain is a style chameleon who transforms herself from androgynous to superfeminine with a mere flip of her red hair; Emma Stone is naturally gamine, a charming mix of schoolgirl and sophisticated. Rooney Mara's lovely girl-next-door-ness was completely subverted last year in The Girl With the Dragon Tattoo: Overnight, she became a style icon, with her almost-alien looks made even more vivid by the movie.
Of course, there are others who matter: Mila Kunis, with her huge ­liquid eyes and tart personality; Kristen Stewart, who can seemingly channel anything from a rebel yell to a nouvelle vague heroine; the stunning sisters Dakota and Elle Fanning, born fashion girls who can also act; and the amazing Natalie Portman, who has dazzled since she was a child actor. In many ways, these style icons are America's gift to the world—our best chance to influence global culture. When an American actress puts on a gown and walks the red carpet anywhere on the planet, attention is paid. Those images stick in the world's collective memory: Style is born at the movies.
Styled: Felicia Garcia-Rivera
Styled: Felicia Garcia-Rivera
Styled: Felicia Garcia-Rivera
Styled: Felicia Garcia-Rivera
Styled: Felicia Garcia-Rivera
Styled: Felicia Garcia-Rivera
Styled: Felicia Garcia-Rivera
Styled: Felicia Garcia-Rivera
Styled: Felicia Garcia-Rivera
Styled: Felicia Garcia-Rivera
Styled: Felicia Garcia-Rivera
Styled: Felicia Garcia-Rivera
Styled: Felicia Garcia-Rivera
Styled: Felicia Garcia-Rivera
Styled: Felicia Garcia-Rivera
Styled: Felicia Garcia-Rivera
Styled: Felicia Garcia-Rivera
Styled: Felicia Garcia-Rivera
Styled: Felicia Garcia-Rivera
Styled: Felicia Garcia-Rivera
Styled: Felicia Garcia-Rivera
Styled: Felicia Garcia-Rivera
Styled: Felicia Garcia-Rivera
Styled: Felicia Garcia-Rivera
Photos: Streisand: WWD Archive; Bening: Matthew Rolston; Taylor: Bruce Weber; Witherspoon, Ryder: Michael Thompson. Williams: Andreas Laszlo Konrath; Hathaway: Mario Sorrenti; Barrymore: Mert Alas &Amp; Marcus Piggott; Thurman: Eric Weiss.