Did Suki Waterhouse Accidentally Shoot Someone During Assassination Nation? Well, Not Exactly
She said it was an accident, of course, but a weird one.
---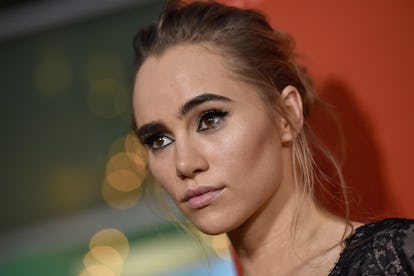 Axelle/Bauer-Griffin/Getty Images
Well, this gives a slightly new (and literal) meaning to Assassination Nation. Suki Waterhouse, the star of the upcoming revenge thriller alongside Hari Nef and Odessa Young, revealed a chilling bit of info at the film's New York premiere this week: During a fight scene that reportedly involved a considerable amount of firearms, Waterhouse claims she accidentally shot someone on set with a gun she was using.
"I hurt somebody. The bullet ricocheted. They hadn't seen that in 20 years. The bullet came back at the guy and hurt him," the Brit It girl told Page Six. "We didn't get extensive [firearms] training. I'm not gonna lie, it was maybe an hour," the actor also claimed. She declined to note whom exactly she allegedly hit and the extent of the injuries — the production company wouldn't confirm that the incident actually happened to Page Six — but hopefully, it wasn't anything too serious or life-threatening.
Update: Waterhouse has now taken to Twitter to clarify that she didn't actually shoot anyone while also revealing the person she did harm.
Waterhouse, who's had to spend most of her press tour fielding questions about her rumored summer romance with Robert Pattinson, stars in Assassination Nation as one of four high school girls who swear to exact revenge on misogynists everywhere by killing them all, one by one, in an increasingly gruesome and fantastical fashion.
Nef, who also stars as one of the girls, previously talked to W about how important it is to see female rage onscreen in our current era of Trump and the #MeToo movement. "So much rage! If you're going to make a film about rage in 2018, 2017, if you're going to make a film about revenge and anger, I feel like that has to be a film about women," she told us. "I don't really want to watch a film about angry men. I've seen way too many of those." It will be released on September 21, if you need that catharsis.
Related: Robert Pattinson and Suki Waterhouse Are Both Single and Separate, Thanks for Asking