Robert Pattinson and Suki Waterhouse Are Both Single and Separate, Thanks for Asking
The pair have fizzled after casually dating.
---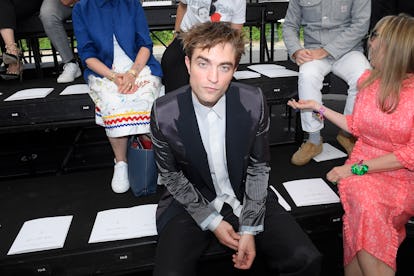 Victor Boyko
When Robert Pattinson and Suki Waterhouse were photographed together outside a Soho House location in London in late July, it made sense. They're single young Brits who are active in independent film, and they have fashion gigs on the side. Reportedly, they've also been casual friends for some time.
The pairing also made sense as the next episode of our soon-to-finish summer of surprising celebrity love.
Yet we didn't hear much about them as a couple after that sighting, and unlike other young celeb couples this summer whose first month together culminated in an engagement, this one apparently quietly fizzled out.
That's according to The Daily Mail, which says that the "budding romance …broke down just weeks after they were seen kissing near her Notting Hill home."
This should be good news for those who are active in Waterhouse's Instagram comment section, which has been filled for the last month by fans wondering if she was really dating Pattinson.
Though some rumors indicated that Pattinson and Waterhouse were together for longer than we speculated, most gossips only ever described the relationship as casual in the first place. "Rob is having fun right now and has definitely moved on from his relationship with FKA twigs," a source told E! News back in July. "He isn't looking for anything serious right now."
Both have had their fair share of headline-getting relationships. Pattinson was engaged to FKA Twigs and dated Twilight co-star Kristen Stewart (with whom he's reportedly still friendly). Waterhouse, meanwhile, dated Bradley Cooper for two years, and she has also been linked to Diego Luna and Miles Kane.
They're both also pretty booked and busy at the moment, so it's no surprise they don't have time for anything more serious.
Waterhouse's IMDB page is full of upcoming projects including co-starring with Elisabeth Moss in the film Killers Anonymous and appearing with Ryan Reynolds in Detective Pikachu.
Pattinson also has several projects in the works, the most anticipated being Netflix's The King, which will see him star opposite Timothée Chalamet.
Related: Suki Waterhouse and Her Mini-Me Sister Maddi On Why They Are Both Obsessed with Clueless and '90s Back to School Style