How Elite New Yorkers Are Preparing Their Skin for Summer, According to Gwyneth Paltrow-Approved Dermatologist Dr. Robert Anolik
The Dr. Brandt protégé opens up about everything from sunblock to Botox.
---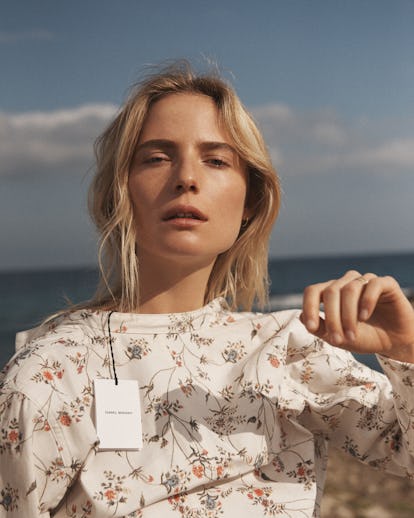 Photo by Hans Neumann, styled by Savannah White. Visual Editor: Biel Parklee. Hair by Jose Quijano at The Wall Group, makeup by Cedric Jolivet. Model: Camilla Deterre at Heroes Models.
With summer just around the corner, it's time to prepare your skin for the season. It's a busy time of year for dermatologist Dr. Robert Anolik, a protégé of Dr. Fredric Brandt. Here, Dr. Anolik, who counts Gwyneth Paltrow as a fan, offers a guide to the three treatments you need right now, his number one tip for beautiful skin, and the latest product he is excited about.
Do you see more patients coming in this time of year?
Yes, my schedule can be a bit hectic in the spring and summer! Once the temperature rises on the East Coast, all my patients want to book an appointment at the same time to get themselves ready for summer in the Hamptons, tropical vacations, etc… I have patients saying that they want to be able to wear tank tops, shorter skirts, and bathing suits this summer but they have age spots, dull skin, love handles, and wrinkles. So, they come in to ask how I can help them.
So, what are your top recommendations for your patients that come in with those requests?
I would say that Coolsculpting, Botox, and lasers for getting rid of sunspots would be the top three pre-summer treatments I recommend for my clients.
The end of winter or early spring is an optimal time for Coolsculpting because it takes about 3-12 weeks to see the results. Some of my patients even start a series of treatments in the fall so that they can do it a few times before beach season.
In the summer we have a greater tendency to squint because of the bright sunlight. This accentuates the appearance of deep lines and folds between the eyebrows and the crow's feet. So, you should invest in a great pair of sunglasses! But for improvement of those lines, Botox is the most popular treatment in my office. As far as sunspots are concerned, if last year's sun damage is still visible on your skin, you'll likely look very damaged once this summer hits. Brown spots develop over time from sun exposure and can often be eliminated with specific lasers, like Ruby, Yag, and Alexandrite. These are specific to pigment particles that make the spots appear. Eliminating them just before summer will make your skin look more even and youthful. It will also prevent them from getting darker. When I treat them, it's advisable not to get too much sun in the few weeks following to avoid complications. And in the summer, when many of my patients are on the beaches or golf courses in the Hamptons, it's best to do this before summer.
I always thought it was a no-no to get any laser treatments before summer because it would leave skin vulnerable to more sun damage. Is that not true?
Let me say this, and I say this to all my patients in New York City. You can do any beauty treatment any time of year. Remember, in places like Miami and Los Angeles it's summer every day, and patients undergo cosmetic dermatology procedures all year round. That said, what's important is to understand that if it requires some level of downtime, meaning pinkness on the skin surface, sun should be avoided in the days or weeks following the procedure because there is a risk that the patient will burn or tan. My patients who undergo laser resurfacing in the summer understand this and simply wear regular sunscreen and do their normal activities. BUT if a patient in the summer – or winter for that matter is heading off on a vacation – they are advised not to sit at a pool or on the beach or a golf course in the time following treatment. The time-period depends on the treatment, but can range from days to weeks depending on the intensity.
Is there an area that we are neglecting that we need to pay better attention to?
The neck and décolleté. People forget to put sunscreen on these areas and when I laser the skin, I always look for issues here.
I think we are all well versed in Botox by now but Coolsculpting is relatively new. Can you explain what it is?
Coolsculpting is perfect for trouble spots like love handles and lower abdomen fat that form because of genetic tendencies to store fat there. It reduces the fat layer. It relies on the fact that adipocytes, the cells in our body that hold fat under the skin surface, are sensitive to cold temperatures. After safe exposure, many of the cells shut down and go away permanently over the course of about 12 weeks. Your body simply metabolizes the fat that is released from the cells the way we typically metabolize fat released from the cells as part of normal metabolism. It is not suited to treat obesity, but it is wonderful for a non-surgical approach to reduce the bulges of fat that bother us, like love handles.
The variety of different lasers out there is dizzying! Which ones are best for treating those pesky brown spots from the sun, and how painful is the treatment?
Lasers including Ruby, Yag, and Alexandrite are best to target brown spots. They deliver a wavelength of light and when the correct wavelength is used, the light beam bounces off a target structure. The absorption creates heat that only affects the target and nothing else, making the treatments specific. When the laser passes over the sunspot and delivers the laser light it produces a snapping sensation on the skin. That's it. People do not need to numb for this procedure.
Of course, no-one wants to be hiding out at home for weeks after a getting something done, and I'm sure your celebrity clients can't afford to miss a day! What's the downtime?
There is no downtime after Coolsculpting. People go right back to their normal activities, including the gym. The treated area tends to be numb and tingly for a few weeks after treatment. Uncommonly patients can develop soreness to the treatment site and this tends to come on in the few days after treatment and go away after another few days. With Botox, most of my patients have no downtime. If anything is visible, it's usually a brief period of minutes to hours of pinkness at the needle injection sites. Less commonly people can develop a bruise, and usually this is small. Fortunately, in rare instances where a bruise is particularly noticeable, instead of waiting the days for it to resolve, I have a trick using a pulsed dye laser that can eliminate bruises more quickly. It's an easy laser treatment and very helpful for my patients who are on TV or models before photo shoots in the days after treatment. When treating sunspots with laser therapy, I do expect a scab to form at the treatment site. The duration of the scab depends on the location. For example, a scab might persist 4-7 days on the face and up to 2 weeks on the chest.
Are there any new products you are really excited for?
Juvederm Vollure XC was just released in March and I am thrilled! Many are just learning about it. It's the first hyaluronic acid filler FDA-approved for moderate to severe wrinkles and folds that lasts up to 18 months. Before this product, these sorts of fillers (hyaluronic acid) for wrinkles and folds have not exceeded durations of one year so 18 months is remarkable! It is a particularly smooth filler, and has a very natural, subtle appearance.
What is your best skincare advice for the spring/summer?
Sunscreen! This is true for all seasons, BUT reapplication is so important in spring and summer if outdoors for more than two hours. Sunscreen reapplication of an SPF30 or higher product every 2-3 hours will give you good protection. Despite our guidance, some people will seek out summer sun to get color. It's just such an awful thing to do to the skin, since it leads to skin aging and skin cancer. In fact, an astonishing 90 percent of aging that we see on our skin is from the sun.
Any other advice to help protect us from the sun's harmful rays?
I love sun protective clothing. It works. Sun-exposed areas need sunscreen but clothing-covered areas do not, as long as it's truly opaque. If wearing a light or mesh shirt in intense sun, you are not protected. If it's a high-quality UPF product, you are likely fine without sunscreen on the areas covered. If in a high-intensity sun environment like the Caribbean, why risk it. Put the sunscreen on everywhere, and wear sun protective clothing. Also, I have recommended Heliocare to many of my patients. It can be protective against the sun as well.
How big of a role does nutrition play in skin health?
It plays a big role. A healthy inside, leads to a healthy outside.
Albanian Model Arselajda Buraku on Immigrating and Embracing Her Body