Guess Who's Coming to Dinner?
Chefs are discovering that the best way to build mass appeal is to cook for a select few. Danielle Stein digs in.
---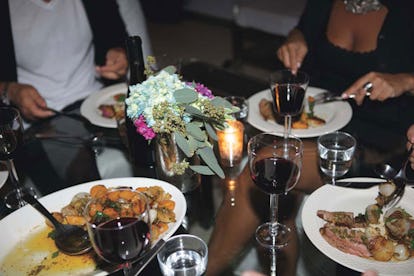 Judging by the look of things, an eternity has passed since Frank Sinatra proclaimed Grotta Azzurra his favorite restaurant. A now tired and touristy joint on the outskirts of New York's ever shrinking Little Italy, Grotta long ago traded in the Rat Pack for lumpy Chicken Française and a website that boasts a visit by the Gastineau girls. And yet! On a recent temperate evening, stylish twenty- and thirtysomethings were gathered outside, making their way past a girl with a clipboard guarding the entrance to Grotta's private dining room. The space had been rented for the week by nightlife impresario Alan Philips and former Top Chef contestant Camille Becerra for the opening of the Hunger, their pop-up supper club. Inside, Spotted Pig co-owner Ken Friedman and superstar chef Tom Colicchio, nightlife chroniclers Steve Lewis and Michael Musto, and club king David Rabin sipped the pickled ramp–infused martinis that Becerra had concocted to pair with her "urban cuisine bourgeois," which she would serve family-style to the crowd. As the first course of fluke crudo with hemp seeds arrived, Todd English, a chef known for a slew of restaurants in shopping centers and resorts across America, looked around at the sleek crowd framed by soft lighting and exposed brick. "I gotta do something like this," he announced.
The supper club, or "intimate engagement," as one top restaurant publicist likes to call it, has emerged as a chef's best tool for boosting or recasting his image. In the age of the celebrity chef, these buzzy, exclusive dinners are like growth hormone for one's personal brand. Becerra, for instance, had considered various head chef opportunities since her own Brooklyn restaurant, Paloma, perished in a fire in 2008, but she ultimately realized that she could exchange anonymity and long hours for freedom and a high profile. At the Hunger's debut, Becerra and Philips had plans to bring their supper club to Miami, the Hamptons, and various other hot spots. "We've got four or five major production companies that already want to put us on TV," Philips reported.
Up-and-coming chefs around the globe, from Paris and Berlin to Atlanta, are employing the supper club strategy, but veterans are also taking advantage. Jon Shook and Vinny Dotolo, of the Los Angeles carnivore mecca Animal, are cultivating an East Coast following with pop-ups in Montauk, and Marco Canora, the chef and co-owner of the popular New York restaurant Hearth and the booming wine bar Terroir, is thinking of launching a bimonthly four-person, 11-course dinner this fall. At Hearth, he says, he reveals only a sliver of his abilities, which is frustrating. "With a 90-seat restaurant, you're limited by the demands of service and price," says the Colicchio disciple. "I can't use foie gras because a $25 appetizer doesn't work on my menu. If I did these dinners, I could cook with foie, with caviar, Kobe beef. It would show people who I am as a chef."
Earlier this summer Ed Brown—who made his mark with New York's Eighty One, a critically lauded recession victim, and who is now the chef-owner of Ed's Chowder House in the city's Empire Hotel (yes, Gossip Girl has been good for business)—started Ed's Back Room Dinners, where he cooks a five-course menu for 25 people in the private room of the restaurant every Tuesday. "For years I worked with Restaurant Associates, a big conglomerate, but I really wanted to make a brand of Ed Brown on his own," says the Jersey Shore native. "And I feel like I did with Eighty One for a brief period—seven months after I opened, I got a Michelin star. Closing it was really painful, but it did a lot of good branding for Ed Brown, and I need to use that going forward." Brown used to view TV chefs as sellouts, but now he wants a show "more than ever."
Brown's Tuesday dinners are conspicuously similar to another "intimate engagement" concept—Tom: Tuesday Dinner, a bimonthly 32-person-per-night dinner that Colicchio hosted in 2009 in the private dining room of his New York restaurant Craft. (Nearly every chef interviewed for this story referenced Colicchio, who received massive attention for his Tuesday Dinners and the new restaurant he spun them off into, Colicchio & Sons.) "These days the collective food memory is short," says Colicchio, who was exasperated when he realized a few years ago that people had forgotten the elaborate dishes he used to cook at Gramercy Tavern. Suddenly he was known only for Craft, which serves extremely simple food. "You hear people say, 'Oh, that's all he does.'" He also lamented the perception that his role on Top Chef had taken him out of the kitchen. "During the James Beard Awards a couple of years ago, I was nominated, and afterward two writers said to me, 'It's going to be hard for you to win because we don't consider you a chef anymore.'" His image rehab has paid off. "People had to physically see me cooking," he acknowledges. "I had been nominated for six years in a row for [the Beard Awards'] best chef in the country, and suddenly, in 2008, I wasn't. After Tuesday Dinner I was nominated again, and then this year I won."
Brooklyn chef Fiore Tedesco understood several years ago the power of cooking right before people's eyes. Ever since, he's forgone traditional kitchen jobs in favor of hosting thematic tasting-menu dinners across the country under the name Brooklyn Laundry. He makes a pittance on the events. "But that's okay because there's something greater in it for me," says Tedesco, who is gathering steam (and funding) for his grand concept: a collective in Brooklyn in which local food artisans will sell their wares while he stages dinners. (Tedesco says he's six months from opening.) He's not the first to use such a strategy. "We started as a bar that did a prix-fixe dinner every Thursday," says Rob Larcom, co-owner of the Redhead, an East Village phenomenon. "It was a vehicle to create a groundswell of regulars. Suddenly people were racing here on Thursdays to get in, and that's when we decided to open as a restaurant."
For the buzzed-about Argentine chef Diego Felix, the supper club is not a means to an end. Felix was serving a handful of patrons in his Buenos Aires home three nights a week when a customer asked him to come do a dinner in New York. In no time, an annual tour of destinations ranging from Manhattan and San Francisco to Panama and Bangkok was born; in each place the "ecogastronomist" does a series of dinners featuring local ingredients prepared with pan-Latin flair. "People ask, 'Are you closing your restaurant in Buenos Aires when you go on tour?'" says Felix. "I don't close; I take it with me. We're a gypsy cooking caravan, a moving culinary experience that I call Colectivo Felix." He is one of the few not keen on scoring a TV show. "I'm satisfied having a dialogue with .00001 percent of the world. I don't want to have to please everybody."
But for most, the more the merrier. Mega-restaurateur Stephen Starr—eyeing the success of events like Tom: Tuesday Dinner and the Hunger (whose first five-night run of dinners sold out in hours, reports Philips, at a rate of $100 to $125 per person)—wants in on the game. Starr, the owner of 17 restaurants (including the Philadelphia and Manhattan locations of both Buddakan and Morimoto), owns a small space in Philadelphia that has been vacant for several years, and launching a pop-up in it is just good business. He has a rotating cast of chefs; his first series, which ran for three nights this summer, featured Aimee Olexy of Talula's Table, a Chester County, Pennsylvania, restaurant with a handful of seats that are often reserved a year in advance. He booked all 500 spots within 36 hours of announcing the event. And the only thing easier than making money on the concept, it seems, is getting chefs to sign up. "For lesser-known chefs it raises their profile immediately, and for a bigger chef it's like the Rolling Stones playing at a little club," says Starr. "You can't underestimate the PR value of that."