The Supreme Court Just Gave Designers More Leeway to Sue Over Knockoffs
The Supreme Court issued a landmark decision today that grants copyright protection to decorative elements of fashion design.
---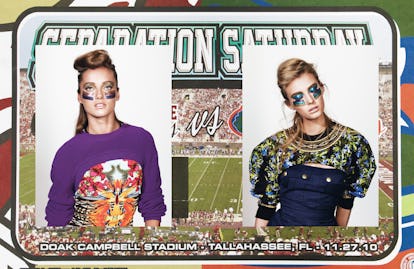 Photographed by Roe Ethridge, styled by Marie Chaix; W Magazine November 2011.
The Supreme Court just handed the fashion industry a potential tool in the fight against knockoffs. In a 6-2 decision handed down this morning, Justices agreed that certain creative elements of clothing and apparel design can be protected under copyright.
The case at the heart of the decision actually involved the particulars of cheerleading uniform design, but in their arguments and decision the justices acknowledged that the case would have wider fashion implications (the specifics of a Stella McCartney dress once worn by Kate Winslet, for instance, were discussed in the hallowed chambers of the Supreme Court).
In the case, Varsity Brands, the premier maker of cheerleading uniforms in America, sued their smaller rivals, Star Athletica, for ripping off the features of some of their designs, in particular the placement of chevrons and stripes on the garments (a lower court had previously decided that they had no right to sue in the first place).
Under previous interpretations of the law, clothing designers had few legal ways to protect their designs. Elements that are used for branding (say, a logo, or motifs like Burberry's signature plaid or Adidas's three stripes) could be protected under trademark. Likewise textile design, like an original fabric print, fell under copyright law. New fabrics or innovative methods of producing something could also fall under patent law protection.
Clothing in and of itself, however, can't be protected because it serves a utilitarian purpose. However, Varsity essentially argued that their particular placement of zig-zags and chevrons were basically akin to fabric design, and thus should be protected.
The high court agreed, and paved the way for Varsity Brands lawsuit against Star Athletica to continue.
"A feature incorporated into the design of a useful article is eligible for copyright protection only if the feature (1) can be perceived as a two- or three-dimensional work of art separate from the useful article, and (2) would qualify as a protectable pictorial, graphic, or sculptural work—either on its own or fixed in some other tangible medium of expression—if it were imagined separately from the useful article into which it is incorporated," is how the majority decision, authored by Justice Clarence Thomas, put it in exact terms.
The implications are pretty clear. If a uniform maker can copyright the particular placement, design, and arrangement of a chevron, then a high-fashion designer could certainly do the same for original, graphic elements of a dress.
While things like the particularities of a hemline, dress slit, or proportions can't be protected (sorry minimalist designers), original decorative elements now can be. Think unique applications of sequins that form a design, original iterations of color-blocking fabric, or graphics.
The fashion industry has been paying close attention to the case, and designers like Jack McCollough and Lazaro Hernandez of Proenza Schouler and Narciso Rodriguez lent their names to an amicus curiae brief in support of Varsity Brand's fight.
Butterflies of Paris: How Street Style Stars Do Paris Fashion Week: