Susan Sarandon Says Paul Newman Donated Part of His Salary to Her to Make Up for Pay Disparity from Twilight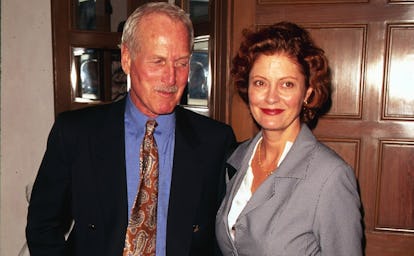 The LIFE Picture Collection/Getty Images
Even though Hollywood has become increasingly exposed as a place full of predatory men, thanks to #MeToo and Time's Up, there are some good ones. Susan Sarandon revealed one of them during a recent interview with BBC where she spoke of her 1998 thriller Twilight. Two decades ago, before the pay gap was as widely discussed, the actress was ensured that she wouldn't be affected by it on the set of the film by her male co-star Paul Newman.
Initially, when Sarandon realized that she wasn't being paid as much as her co-stars, despite equal billing, she spoke up to little sympathy from the producers. "Emma Stone once came forward and said she got equal pay because her male stars insisted upon it and gave up something of theirs," she revealed in an interview with BBC Radio. "That happened to me with Paul Newman at one point, when I did a film with him ages ago. [Producers] said it was 'favored nations,' but they only meant the two guys."
This didn't sit right with Newman, however, who personally took on the issue to ensure that Sarandon would be fairly compensated. "He stepped forward and said, 'Well, I'll give you part of mine.'" Sarandon added, "So, yeah, he was a gem."
The story strikes a similar note to a recent pay disparity situation between Michelle Williams and Mark Wahlberg, who both had to reshoot scenes for All the Money in the World after Kevin Spacey was outed for sexual misconduct and, consequently, dropped from the film and replaced with Christopher Plummer. Only in Wahlberg's situation, the actor donated the $1.5 million he received for reshoots—to Williams's $80 per diem—to the Time's Up Legal Defense Fund (after their pay gap was highly publicized, it should be noted). Of course, in an ideal world, no one would have to donate anything because everyone would be getting paid fairly from the start.
Sarandon also shared her thoughts on how Hollywood will continue to grow into being a safer place for women in light of the recent movement. "I think what will go away is the unwanted exchange," she said when speaking about the idea of the "casting couch." "But I think that giving yourself sexually, or being drawn to power and wanting to have sex with someone that's in power, is also a choice. What we don't want to have is being exploited and have the Harvey Weinsteins of the world holding it over your head and holding it over your project. That is the most despicable."
Related: Saoirse Ronan on the Time Susan Sarandon Tried to Get Her in Trouble With Prince Charles, and Her Girl Crush on Robin Wright