Michelle Williams Responds To Mark Wahlberg Decision To Donate All The Money In The World Salary To Time's Up
The difference in their wages became a hot topic over the past week.
---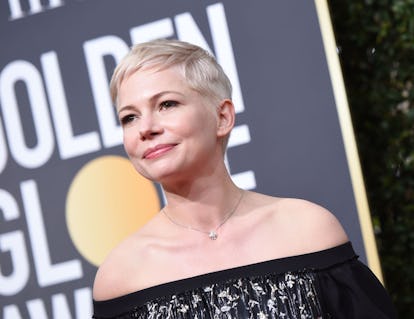 Photo credit should read VALERIE MACON/AFP/Getty Images
All the money Mark Wahlberg earned from the All The Money In The World reshoots is going to the Time's Up Legal Defense Fund in Michelle Williams' name after days of public scrutiny.
To recap: After actor Anthony Rapp publicly accused Kevin Spacey of making sexual advances toward him when Rapp was just fourteen, All The Money In The World director Ridley Scott decided to replace Spacey with Christopher Plummer, requiring reshoots with the main cast. Wahlberg's reps negotiated a $1,500,000 pay day in exchange for approval of the recast, while Williams basically volunteered to forgo her quote because she believed in the rightness of Scott's decision, and earned somewhere around $80 per day. (Spacey has since been accused of sexual misconduct by many other people.)
Both Wahlberg and Williams are represented by WME, and after the story of their wage discrepancy broke, Wahlberg announced yesterday that he would donate the entirety of his reshoot money to the Time's Up Legal Defense Fund in Michelle Williams's name, saying in a posted statement that he "100% support[s] the fight for fair pay." WME pledged an additional half million to the fund.
Now, Williams has responded to the story and re-centered the conversation on decency, equality and activism, rather than (all the) money (in the world, sorry, this joke amuses me).
"Today isn't about me…If we truly envision an equal world, it takes equal effort and sacrifice…Anthony Rapp, for all the shoulders you stood on, now we stand on yours," she said in a statement.
Rapp responded on Twitter, saying he was "very moved" by Williams' words.
Hopefully, these donations will help victims like Rapp find recourse against people in their workplace who would hut them, and Scott's decision becomes standard practice for rooting out abusers from every industry.
Related: Michelle Williams on Reshooting All the Money in the World with Christopher Plummer
A Brief History of Michelle Williams and Busy Philipps' Friendship on the Red Carpet
Michelle Williams and Busy Philipps in 2006.

Dimitrios Kambouris/Getty Images
Michelle Williams and Busy Philipps in 2006.

J. Vespa/Getty Images
Michelle Williams and Busy Philipps in 2010.

John Shearer/Getty Images
Michelle Williams and Busy Philipps in 2011.

Frazer Harrison/Getty Images
Michelle Williams and Busy Philipps in 2011.

Jeff Vespa/Getty Images
Michelle Williams and Busy Philipps in 2011.

Jeff Vespa/VF11/Getty Images
Michelle Williams and Busy Philipps in 2011.

John Shearer/Getty Images
Michelle Williams and Busy Philipps in 2012.

Jeff Vespa/Getty Images
Michelle Williams and Busy Philipps in 2012.

Lester Cohen/Getty Images
Michelle Williams and Busy Philipps in 2012.

Charley Gallay/Getty Images
Michelle Williams and Busy Philipps in 2012.

Lester Cohen/Getty Images
Michelle Williams and Busy Philipps in 2012.

Jeff Vespa/Getty Images
Michelle Williams and Busy Philipps in 2012.

Jeff Vespa/VF12/Getty Images
Michelle Williams and Busy Philipps in 2016.

Bruce Glikas/Getty Images
Michelle Williams and Busy Philipps in 2016.

Earl Gibson III/Getty Images
Michelle Williams and Busy Philipps in 2016.

Allen Berezovsky/Getty Images
Michelle Williams and Busy Philipps in 2016.

Astrid Stawiarz/Getty Images
Michelle Williams and Busy Philipps in 2017.

Joe Scarnici/Getty Images
Michelle Williams and Busy Philipps in 2017.

Steve Granitz/Getty Images
Michelle Williams and Busy Philipps in 2017.

starzfly/Bauer-Griffin/Getty Images
Michelle Williams and Busy Philipps in 2017.

George Pimentel/Getty Images
Busy Philipps and Michelle Williams attend the 2018 InStyle and Warner Bros. 75th Annual Golden Globe Awards Post-Party at The Beverly Hilton Hotel on January 7, 2018 in Beverly Hills, California. (Photo by Donato Sardella/Getty Images for InStyle )

Photo by Donato Sardella/Getty Images for InStyle
Michelle Williams and Busy Phillips attend the 71st Emmy Awards at Microsoft Theater on September 22, 2019 in Los Angeles, California.

Kevin Mazur