This Photographer Has Anonymously Donated Millions to Female Artists for Decades
And she just revealed her identity.
---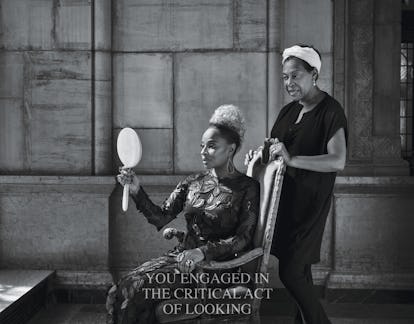 Seventy-seven-year-old photographer Susan Unterberg has revealed that she is the anonymous benefactor behind the Anonymous Was A Woman grant program. For over 20 years, female artists over the age of 40 have received $25,000 grants from the organization, which was somewhat shrouded in mystery. There was no grant application process; recipients simply received an out-of-the-blue phone call with an offer. And few people knew, exactly, where the money came from. But in an interview with The New York Times, Unterberg said "she finally decided to come forward in order to more openly advocate for female artists and to demonstrate the value in women supporting women," per The Cut. According to the article, the money from the grants comes from a foundation that Unterberg and her sister inherited from their father, Nathan Appleman, "who was a prominent oilman and philanthropist."
"For most of history, anonymous was a woman" is a quote from Virginia Woolf in which she recognizes that women have long had to disguise their gender to be taken seriously in the arts, and in any profession or industry. Even now, female authors often use their first initials on covers so that men and boys aren't put off from buying their books, the most notable recent example being Harry Potter scribe J. K. Rowling.
Anonymous or not, initialed or not, this altruistic generosity has certainly helped the female artists of our era. Grant recipients have included Amy Sherald (most famed for her Michelle Obama portrait), Carrie Mae Weems, Eve Sussman, Louise Lawler, and Nicole Eisenman. In the interview, Unterberg reiterated that she revealed her identity to put herself in a position to continue helping female artists, not for any kind of special recognition. "It's thanks enough knowing I've helped people's lives when they needed it," she said.
Related: Wes Anderson Curating a Museum Exhibit in Vienna, Austria, Is a Reminder We're Living in Peak Art Selfie Times
The 10 Art Clichés the Art World Hates to Love (or Maybe Just Plain Loves)
"When most people hear 'dog portraits' they probably think William Wegman. Here, Sally Saul has sculpted three magnificent puppies presented in a vitrine like some pet shop window. Her husband Peter Saul is also in this summer show because there's nothing more cliche than 'artist couples.'"

Sally Saul, Little Dog, 2018. Photo by Matthew Kroening.
"Richard Prince's photograph of a red Kool Aid pitcher dates back to 1983. Almost 30 years later, he revisited the subject for this 2011 painting. Artists like George Baselitz and Pablo Picasso have also famously returned to their favorite terrain—hence the cliche."

Richard Prince, Untitled (Kool-Aid), 2011. Photo by Matthew Kroening.
"This Sam McKinniss portrait of Prince George hangs next to a 1991 drawing by Elizabeth Peyton of Queen Elizabeth at age 16 (after Cecil Beaton). Both are under the heading of 'British royalty.' There was some controversy last year when a British minister called out the little prince as clearly being gay, which resulted in a widespread and well-deserved backlash. Sam also notes that 'memes are today's cliches' and George is meme bait for the masses. He also notes, 'Gingham in summer is mad corny, very cliche', as his subject in this painting sports a gingham top."

Sam McKinniss, Prince George & Prince William, 2018. Photo by Matthew Kroening.
"I remember interviewing Mark Grotjahn and him questioning his own authority to paint a skull after so many Dutch Masters—not to mention Basquiat and Damien Hirst—had rendered it with such vigor. Here, Josh Smith in his classic self-serialization style also paints a human skull… only with teeth."

Josh Smith, Untitled, 2015. Photo by Matthew Kroening.
"The bulk of Cy Gavin's work deals with his familial connection to Bermuda and the island's folklore/history. He seems to love this widescreen edition format lending his paintings a dose of the cinematic. 'This male bather, seen in the trough of a crashing wave, returns the viewer's gaze,' says Cy, 'and seems to acknowledge, in shock or horror, that he has been objectified.'"

Cy Gavin, Bather V, 2018. Photo by Matthew Kroening.
"This new painting of Michael Jordan is uncharacteristic for Nathaniel Mary Quinn in its cohesiveness. What might seem like a typical celebrity portrait actually resonates personally for the artist. As a teenager, Quinn was a Jessie White tumbler in Chicago often performing during halftime at Bulls games. He had the chance to see Jordan and Dennis Rodman and Scottie Pippen close-up. They all personified Greek gods to him in their physical beauty, talent, and grace. The neck seems elongated and might actually be appropriated from a thoroughbred horse."

Nathaniel Mary Quinn, Jordan, 2018. Photo by Matthew Kroening.
"Artists making kid-art is pretty cliche. Names like Brian Belott and Wim Delvoye come to mind. Here, Piotr Uklanski remakes one of his own childhood scribbles as a fully realized bird."

Piotr Uklanski, Untitled (Ugly Duckling), 2013. Photo by Matthew Kroening.
"Under the heading of 'furniture sculpture,' visitors to Almine Rech Gallery would likely expect to see works by John Armleder. So this new Ginny Casey painting is something of an inside joke. I also suspect her piece has something to do with motherhood."

Ginny Casey, Housetrap, 2018. Photo by Matthew Kroening.
"Friedrich Kunath's I need to sleep is an ode to dreams or perhaps a love letter to insomniacs. The Blakelock Night Glow was painted in the late 1800s, yet the romance of nightscapes spans the centuries. Other contemporary artists like Katherine Bradford and Anne Craven also traffic in moons. As Alfred Jarry said: 'Cliches are the armature of the Absolute.'"

Friedrich Kunath, I need to sleep, 2015. Photo by Matthew Kroening.
"Is it me or does this Alex Becerra self-portrait winkingly depict him in the style of Vincent van Gogh? His painting hangs alongside self-portraits by Cheyenne Julien and Chloe Wise. I thought it was interesting to only commission self-portraits by young, lesser-known artists because their face recognition won't overwhelm the painting itself."

Alex Becerra, Self Portrait with Hat, 2018. Photo by Matthew Kroening.