Suspiria Director Luca Guadagnino Is Not Happy About Someone Texting Through the Premiere
Luca Guadagnino, the Suspiria director, was understandably not happy about the disturbance that occurred during the film's world premiere in Venice.
---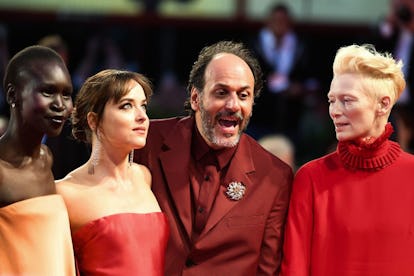 VINCENZO PINTO
Suspiria, Luca Guadagnino's contemporary reimagining of the 1977 Dario Argento horror film of the same name, has premiered to rave reviews, and multiple chilling trailers have been released to entice viewers to expect a bone-chilling experience.
"I feel relieved that no one threw anything or left," Dakota Johnson, a costar of the horror flick, said in her interview after the festival. "I was nervous. I had not seen it with an audience before, so it kind of allowed me to enjoy it more," she continued. However, some members of the audience were not so kind about their film-viewing habits during the world premiere of Suspiria.
By now, everyone should know and abide by the rules of going to the movies, the cardinal one being "no texting allowed." At the 2018 Venice Film Festival, one moviegoer decided to waive that particular rule and reportedly took out his phone during the world premiere of Suspiria and proceeded to text throughout the film. "There was one guy, like row 10 down below, who was watching his phone all the time," director Luca Guadagnino said in an interview with the Associated Press after the world premiere.
Tilda Swinton, another one of the stars of the film, was visibly horrified at the notion that someone would be brave enough to whip out a cell phone and stare at it during the film. "I spent the entire evening thinking, I'm going to go down there and tell him to stop [using] his f–king phone now because it's so disrespectful. You have this light in the darkness of the theater, and I really hated it," Guadagnino continued.
There is certainly more than one way to commit a social faux pas in a movie theater, but this one might take the cake for the most inconsiderate way to watch the world premiere of a film while the director sits just rows behind you.
Related: Dakota Johnson Is Possessed in the Second Look at Luca Guadagnino's Suspiria with Tilda Swinton