Dakota Johnson Is Possessed in the Second Look at Luca Guadagnino's Suspiria with Tilda Swinton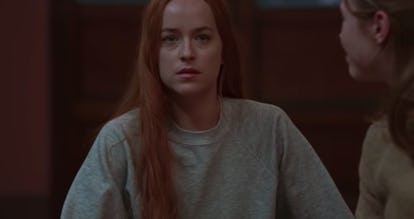 YouTube
If you thought the first trailer for Luca Guadagnino's remake of *Suspiria* was chilling, you might want to pause on hitting play on the second. Dakota Johnson, who stars in the film, takes center stage in the latest look at it, and she is utterly possessed. Her presence is enough to make you swear off dancing, forever.
The clip begins in the prestigious Marks Dance Academy in Berlin. where Johnson's character Susie Bannion is enrolled. Upon attending the school, Bannion notices something horrific as she tries to answer questions for herself about the disappearance of some students. But it's mid-class when this video segment takes place, led by the academy's artistic director, Madame Blanc played by Tilda Swinton.
"I want to start work on a new piece," Swinton tells the class, "A piece about rebirths. The inevitable pull that they exert and our efforts to escape them. Susie, you will improvise freely… I'm interested in your instincts here." Johnson isn't free at all, though. She is utterly possessed by a hand beneath the floor.
Watching the clip, it's all the more notable that Johnson has since distanced herself from the character. "No lie, [Suspiria] f—ed me up so much that I had to go to therapy," as she said recently. "We were in an abandoned hotel on top of a mountain. It had 30 telephone poles on the roof, so there was electricity pulsating through the building, and everyone was shocking each other. It was cold as shit, and so dry."
Meanwhile, Johsnon's costar Chloë Grace Moretz, who speaks German in the film and appears to be unrecognizable, as she recently described, has likened the film to Stanley Kubrick's work. "This is a really big statement, but this is the closest to modern Stanley Kubrick I've ever seen," she said. "You're put into a world, which I can only describe as being like The Shining in a lot of ways, where you're just encompassed in a filmmaker's brain and you're just implanted in there, and there's nothing like it that you will ever see." You can see for yourself come October 28, when the film hits theaters.