Hollywood Is in a Bidding War to Make a Long-Overdue Swan Lake Movie Starring Felicity Jones
Felicity Jones and Luca Guadagnino are attached to Swan Lake, a film that's already the subject of a bidding war.
---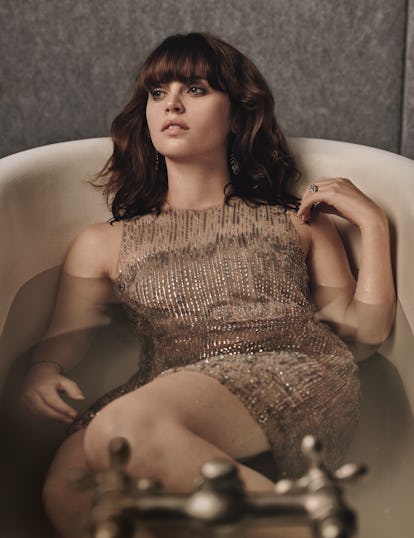 Photographs by Craig McDean. Styled by Edward Enninful. Hair by Orlando Pita for Orlando Pita Play; makeup by Peter Philips for Dior. Manicures by Michelle Saunders for Essie at Forward Artists. Set design by Piers Hanmer.
Take a story everyone already knows and loves, an actress on the rise and a director who may very well be on the verge of an Oscars breakthrough already, and what do you get? A Hollywood bidding war. According to The Hollywood Reporter, studios are furiously angling to land a project based on the classic ballet Swan Lake with the hopes of turning into a big budget film.
Felicity Jones, hot off Rogue One: A Star Wars Story, is set to star, increasingly busy Luca Guadagnino is on board to direct, and the story is by Cristina Lauren Anderson, the writer behind a much lauded Catherine the Great script (that once had Barbra Streisand on board on director, but has yet to be produced).
Pyotr Tchaikovsky's original Swan Lake is one of the most popular and most performed ballets of all time, but while it's been the basis of animated films and novels before and somewhat inspired Darren Aronofsky's Natalie Portman-starring Black Swan, the film's plot itself has never gotten the full on Hollywood live action treatment aside form professional filmed productions of the ballet.
So, now Hollywood is in a bidding war for a well-known property that maybe no one realized until now had never been turned into a proper flick. Universal, Paramount and TriStar are amongst those in contention. The project apparently went on the market just before everyone broke for the Fourth of July holiday.
According to The Reporter, the film would not be a ballet, but rather a "tentpole" fantasy film. The main story concerns Princess Odette who gets turned into an actual white swan by an evil sorcerer, and then faces off against the sourcerer's daughter, now magically in the form of a black swan, in the story's climax.
Jones would likely play the Odette role, and it could make for her first major role since Rogue One.
Italian director Guadagnino meanwhile has been respected for his work for years, but since debuting at Sundance his latest film Call Me By Your Name has created tons of Oscar buzz. It's still early in the season and the film hasn't even gotten a traditional release yet, but it has definitely reached "contender" status and is already opening new doors for Guadagnino. He's also helming the Chloë Grace Moretz-starring remake of Italo-horror classic Suspiria, and is attached to direct a film that will combine the talents of Jake Gyllenhaal and Benedict Cumberbatch. (As a side note, the director's most frequent star is Tilda Swinton, who clearly deserves some sort of role in this).
The director certainly has the imagination to turn a simple (albeit well known) story traditionally told through movements alone into a big screen, potentially big budget Hollywood fantasy. After scoring big in Rogue One, Jones also deserves another big time role. It's no wonder everyone in tinsel town is desperate to land the project.
Related: (How Actress Felicity Jones Went from Starring in British TV Shows to Rogue One: A Star Wars Story)[https://www.wmagazine.com/story/felicity-jones-rogue-one-a-star-wars-story]
Star Wars Actress Felicity Jones Will Always Love James Dean: