The 10-Minute Workout
W's managing editor loves this new interval training routine.
---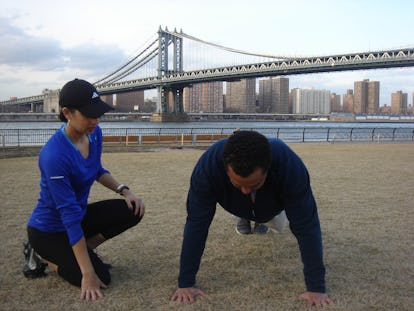 Thanks to my fantastic personal trainer, Tiffany Dallenbach, my favorite new aerobic routine is Tabata, an extreme, high-intensity form of interval training on the treadmill. In 10 minutes, you run top speed and a high incline for 20 seconds, jump off the moving treadmill and rest for 10 seconds, then jump back on for another 20 seconds of high intensity. And repeat. The goal is to be panting after each 20 seconds. Tabata pushes your heart rate to maximum intensity, burns way more calories than the usual interval run, and creates an afterburn that works all day. While workouts are getting ever more targeted for those of us pressed for time, this is definitely the most high octane 10 aerobic minutes I've ever had, and I'm definitely seeing the happy results just in time for Fashion Week.
For personal training with Tiffany Dallenbach, contact Tiffany@DalleFitness.com.