That Selena Gomez and Cardi B Collaboration Has Finally Arrived
Listen to "Taki Taki" now.
---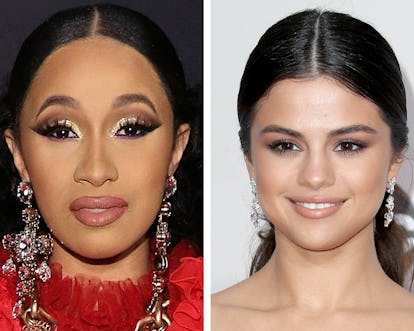 Composite. Getty Images
Summer may officially be over, taking with it all those "songs of the summer," but now it's time for the songs of the fall to start rolling in. First up: "Taki Taki," a new song from DJ Snake, Selena Gomez, Cardi B, and Ozuna, which dropped Friday morning. It's a reggaeton club track that'll be stuck in your head from the first listen, and is definitely a strong contender to fill the "Despacito"-shaped hole in your heart.
In a recent interview with Billboard, DJ Snake explained how the song came into being. "I sent it to Ozuna and he crushed it. I'm a big fan of Ozuna—he crushed it! And then I wanted more females on the record—and Spanish-speaking, you know? Two queens right here. That's what I wanted to do, and they blessed me with this greatness and dope energy. Selena and Cardi is a great combo," he said. In the magazine's Instagram Story on Thursday night, Cardi also spoke about why she wanted to be part of the collab, E! News reports. "It's very Spanish. It's very, like, a Spanish vibe. As soon as I heard it, I was like, 'I want to get on it,'" she said. "Then I found out Selena Gomez was going to be on it, and I'm like, 'Oh, sh*t!' I knew it was going to be a hit."
Listen to the entire song on YouTube, below, or on your preferred streaming service. With DJ Snake, the mastermind behind smash hits like "Turn Down for What" and "Let Me Love You," at the helm, plus verses from Gomez, Cardi, and Puerto Rican singer Ozuna, there's a good chance it'll be stuck in your head before the end of the day.