Tammy Haddad's Washington D.C.
Ahead of the White House Correspondents Dinner, the power party host and media consultant shares her D.C. hit list.
---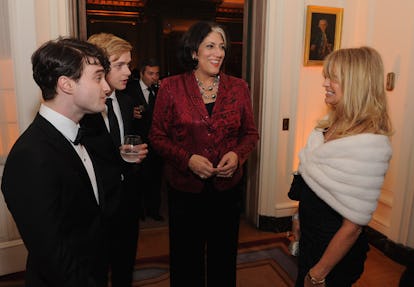 Tammy Haddad may have cut her teeth in Washington, D.C. as the creator of Larry King Live, but her influence on Capitol Hill has grown with her becoming the party host, media consultant, and intermediary to know. She's best know for both her "Tam Cam," on which she filmed impromptu interviews with the likes of President Obama and Robert De Niro, and for the A-list brunch she throws on the morning of the White House Correspondents Dinner. This year, she'll also host a party for HBO and All the Way, the forthcoming film about President Lyndon B. Johnson (she also works on the network's hit show Veep). Ahead of "Nerd Prom," Haddad shares her D.C. hit list.
D.C. neighborhood: The Palisades.
Describe the aesthetic of your home in three words: Comfy, light, happy.
Name your dinner party essentials: Good wine, better stories.
Best place to take a visiting dignitary for drinks or dinner: Cafe Milano. All their colleagues are there!
DC-only food staple or restaurant dish you can't live without: Branzino baked in salt.
Favorite power-meal spot: Cafe Milano for dinner, The Four Seasons for breakfast.
Best restaurant for Republicans: The Prime Rib.
Best restaurant for Democrats: Le Diplomate.
Where to meet your "Deep Throat"-style sources: The Jefferson Hotel, in the cabinet rooms.
Favorite date-night restaurant: Al Dente.
When going for a late, late night, you go to… The Four Seasons bar.
Favorite DC Museum: Renwick Gallery.
Favorite stores: Neiman Marcus. The general manager Martha Slagle's nickname is 911 for a reason.
Best spa: The Jefferson Hotel. Even the mouthwash dispensers are elegant.
Local motto you live by: "Stay in your own lane." Everyone should follow it.
Watch W's most popular videos here: