Tammy Hembrow, the Kim Kardashian of Australia, Shares Her Instagram Dos and Don'ts
And why DMs are for memes, not flirting.
---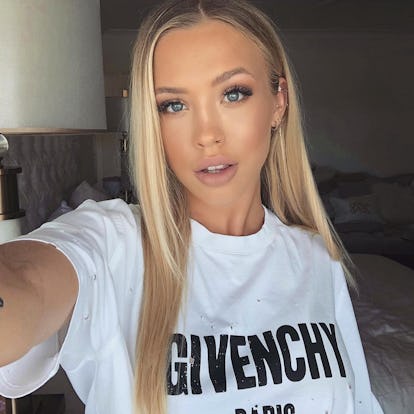 America has no shortage of social media stars, and we're hardly the only nation to produce Instagram-famous models and entrepreneurs. Case in point: Tammy Hembrow, who may well be Australia's answer to a Kardashian. Like Kim Kardashian, Hembrow uses her Instagram account, which boasts over 8 million followers, to post gym selfies, pictures of her adorable kids, and new products from her athleisure brand, Saski. Of course, with great Instagram power comes great responsibility. Here, Hembrow, in the midst of Sydney Fashion Week, where she attended the first runway show for I Am Gia—the fashion label beloved by fellow Insta-girls like Kaia Gerber and Bella Hadid—shares her social media dos and don'ts.
What's your Instagram handle? How did you pick it? @tammyhembrow because it's my name. When I started Instagram it wasn't as big as it is now, so my name seemed the logical choice.
How often should you post? I could probably post more. I don't like to do too many posts, though; Instagram is just one aspect of my brand. For me twice a day is the most I will post usually.
What's the secret to taking a winning selfie? Good lighting and knowing your angles!
How many selfies do you take before posting? I used to take a lot more than I do now. I now know how I like to post, and so although I take a lot less, it's still quite a lot, haha.
Filter or no filter? It depends on the photo. I like to have a warm feel to my photos, so when I do use a filter I use Aden and turn it down a bit. Recently I've started taking photos on my camera, though, and if I have the right lighting I don't see the need for a filter.
What is your favorite thing to post? I love posting about milestones. I love sharing big events with my fans because they got me to where I am and it's important to me to share my achievements.
What pisses you off on social media? Online bullying is something that really disappoints me when it comes to social media. It's something that affects a lot of people, and I think talking about it will bring more awareness to the subject.
How do you block out the haters online? Over time I've grown a really thick skin. Things will still get to me now, but I think it's important to know who you are as a person and have a great support system. I used to block negative comments, but now I just leave them.
What's the best way to slide into someone's DMs, especially if you're into the person? I wouldn't really know, I've never seen Instagram as a tool for picking people up. I mostly use my DMs for sending memes to family and close friends.
Do you follow exes or block them? I don't have many exes. I don't block them. I have no hard feelings.
Is there anything you would never post? There are lots of things I don't post—boring things like when I'm working late at night or sick.
How do you detox from social media? I try not to spend too much time on social media. Having two kids and two businesses doesn't afford me that much time. I go on to post and usually stay on for a bit to see the responses and comments and reply to some people, but when I'm not posting I'm spending time with my kids or working.
What are your favorite accounts to follow and why? I like to follow trendsetters and brands I admire. Brands like @iamgia and fashion icons like Bella Hadid.
Related: Gigi Hadid Warns: "Social Media Seriously Harms Your Mental Health"