Taraji P. Henson Replacing Mel Gibson in a What Women Want Remake is Perfect Casting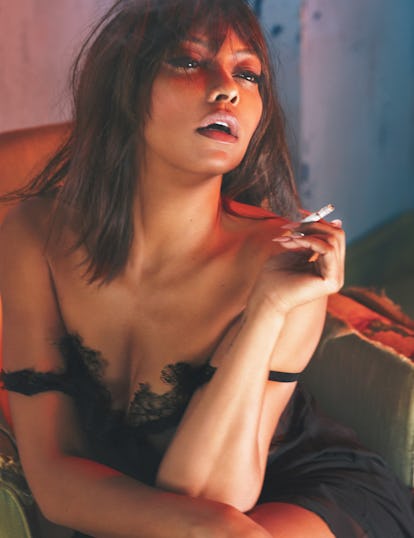 Photograph by Mert Alas & Marcus Piggott, Styled by Edward Enninful; Hair by Shay Ashual at Art Partner; makeup by Aaron de Mey at Art Partner; manicure by Mei Kawajiri for Chanel at Orme Square. Set design by Andrea Stanley and Emma Roach at Streeters.
It's been a rough decade for the rom-com but this past year, with films such as The Big Sick, has marked a turning point. Now, Taraji P. Henson will be helping usher in a new and improved era for the beloved genre with her next project: a reboot of Nancy Myers's popular 2000 comedy What Women Want. The new take on the film won't exactly adhere to its original formula though, where star Mel Gibson finds himself able to read the minds of women around him like Helen Hunt and Marisa Tomei.
This time it will be told from the perspective of a woman played by Henson, Variety reports, who will suddenly be able to eavesdrop on the thoughts of men around her. Cue the prayer hands emoji.
The film, which is being executive produced by Henson, takes place in the world of sports instead of advertising. Henson will reportedly play a sports agent who, like other women in her field, is a victim of the industry's systematic sexism and misogyny. But, once she gains the ability to read her male coworkers' thoughts, she's able to break through the glass ceiling and will have an advantage as she competes with her coworkers to sign the NBA's next bright star.
While other details are scarce at this moment—aside from the release date of January 11, 2019 by Paramount Pictures—the information that exists now is enough to be counting down the days until the film debuts. It couldn't come at a better time, as Hollywood's deep history of sexism and sexual harassment and assault continues to be exposed by celebrities emboldened to speak out about their own traumatic experiences in the wake of Gretchen Carlson's lawsuit against late Fox news head Roger Ailes and, more recently, the dozens of allegations against industry executive Harvey Weinstein and director James Toback, to name a few. Considering how vocal Taraji P. Henson has been about the urgent need for Hollywood to become a more inclusive place, she couldn't be more perfect for this role.