Taryn Toomey on Why Wellness Should be a Full-Body Experience
The underground fitness favorite gets a space of her own in New York and explains her wellness philosophy: "Be more present in your life."
---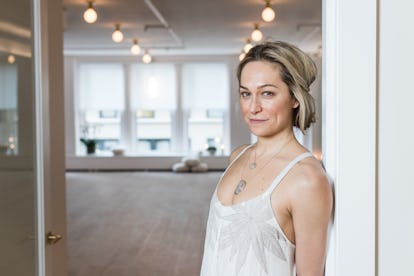 Wellness wonder Taryn Toomey doesn't want to be thought of as a guru. But that hasn't stopped her cult sweat session The Class from building a serious star-following that includes Jennifer Aniston, Christy Turlington, and Naomi Watts. That's because Toomey's genius is that her classes are therapeutic experiences where attendees shake, scream and jump so as to trigger catharsis. Five years later after she began her experiment, she's built a permanent home right here in New York, at a brand-new studio in TriBeCa. Here, she opens up about crystals, cleanses and why wellness should be a full-body experience. "This is not about being polite or pretty or tucked in a ball. It's about coming into a container of a space where you can be and do whatever it is that you need to do or be," she says. "And then you go back out and you can be more present in your life."
So you started in fashion. What made you make the switch? Well, I worked at Ralph Lauren for a bunch of years and then I went to Dior thinking that I was just unhappy at Ralph Lauren. And I realized that it wasn't that. I found myself always racing to yoga, and I couldn't understand at the end of the day…everything looked good on paper. I didn't feel fulfilled. I wasn't in the right world. So I did a yoga teacher training probably with the expectation that I would go back to Ralph Lauren. It was a month-long intensive and then I realized that it was a total conundrum and you had to teach in order to learn how to teach. And I just started hitting the pavement and teaching. And after a couple years of that we moved to Boston, I got pregnant with my first child and then we moved back to New York ten days before I had her. In the meantime, while I was teaching yoga, I went down to Peru and I met this incredible woman who ended up becoming a mentor of mine. She died of a broken heart, which ended up as cancer in her lung, which was a broken heart. And I remember learning through her, really, how pain, emotional pain, manifests in the physical body, and that will eventually kill you if you don't tend to it.
How did you start The Class? Six months after my first daughter was born, my mentor died, and I went to my midwife and I was like, "I feel kind of miserable and I don't know what's going on." She thought I had postpartum, so she was like, 'Let's get antidepressants.' That didn't feel right, so I sat on it for awhile and I didn't get it filled, and then I played around with the feeling a little bit more and I realized that it was grief. A couple of months later I started teaching a few friends in my building what is now The Class. It was a movement-style of feeling things in the physical body, and then moving the physical body to heal yourself. And in the beginning what we did was I would collect some money from all of the girls, and I would send it to my mentor's kids every month. She had started an orphanage in Peru and had adopted all of the kids, so they were really hers. It was kind of my way to heal, by moving in a way that felt like it was healing. It's feel it, and then open it up, and allow yourself to feel whatever form it is. That's where the shaking the body, the tapping the body came from; a lot of sound, get angry if you want. This is not about being polite or pretty or tucked in a ball. It's about coming into a container of a space where you can be and do whatever it is that you need to do or be. And then you go back out and you can be more present in your life, be more mindful in your speak, about what you put in your body, not just through food, but through community, through people that you surround yourself with, through the words that you take in or believe about yourself, to yourself, to neighbors.
It sounds like physical therapy in the truest sense. It's very therapeutic. I'm always hesitant to say therapy because I'm not a trained psychotherapist in any way, but I've certainly done my share. I've done a lot of different types modalities of healing—talk therapy, and movement therapy and worked in Peru a bunch. I don't call myself anything. I'm in the work with everybody else, but it's super therapeutic for sure. I'm not ever preaching anything, I'm not your guru. I'm in the work with everybody. Hard stop. With this space what I wanted to do, because I really believe in the holistic approach of things, is make it part of the whole. It's not like you go and you work your body, you go and you meditate, you go and you find community, and you go into a beautiful restaurant and you smell something delicious. Every single element and component in the space is to make you feel a certain way. So the reason there are crystals under the floor—it's all hematite and black onyx around the perimeters— is because that cleanses energy when you walk in.
Hematite is really healing, right? Well, the darker stones help to draw the energy out. So you put it next to your cell phone at night, if you sleep next to it, because it helps with radiation and all that stuff, which are really heavy at every threshold. And as you walk in there's clear quartz, which moves the energy in and out, rose quartz which is love, and amethyst, which helps with processing. So that's sprinkled throughout the floors and then there's pucks put in between all of those that you'll feel when we're on the floors. They're super, super, sprung so you get that levitating quality. The lights matter so much to me, the softness on the eyes and the smell of the palo santo when you walk in, which is more masculine because everything is so feminine. Everything that you touch should create part of an experience.
And you have your own jewelry? I really use the necklaces as touchstones for where I'm at or what I'm feeling or what I need. It's a literal touchstone. If I feel anxious or whatever, because whether or not the crystal works it's all about the intention. So if the intention of touching the stone grounds me in my body, then so be it.
And you have a cleanse. How did that come about? The same way that we came about The Class, which is really just my favorite parts of cleansing the body mashed up in one. I've always experimented with different types of eating and rituals and self care, so I decided, why not bring them all together with Ayurvedic styles of eating, which is much less macro. It was more about grounding foods and lightening foods. If you feel really heavy and really depressed and you can't get out of bed what you want to reach for usually is heavy and grounding. And it's actually the opposite, you really want to eat something that's going to lighten the load and lighten the spirit.
What do you do beauty-wise? Do you only use clean products? For the most part, if it smells good…I'm obsessed with rose. I was at ABC Carpet & Home and there was this Smoke Rose Oil, and I put it on when I left, and my sister was there with me and I was like it just feels so good. We were both walking down the street and we couldn't stop talking about it. Things that have an impact, that leave a feeling on you is really good. May Lindstrom's Blue Cocoon is like that. A lot of products that I can't carry here. I get a lot of facials with Joanna Vargas, which I love her. All of her products are natural and smell delicious like the rejuvenating serum. I also love Chanel's La Solution 10, which just has ten ingredients I love because it's not scented. I use the Tata Harper body oil. I guess I am pretty natural. Scents really matter to me.
It's its own experience. It is! And that's really what I believe about everything, which is why I'm so excited to be able to create a space. Because, for me, I was teaching out of my gym and then out of this kid's dance studio for so long and the mats smelled and the colors and everything and to me, I see so much beauty and I feel through my senses, especially my eyes. To be able to walk in and feel the space, I mean, I hope you can feel it.
Oh yeah. Very good vibes. I want people to feel like it's a little oasis. I want to call it the home.
That would be perfect. The Class at The Home. I want people to feel in here. I want people to feel supported in whatever it is that they want to do whether that's shaking your body, or sitting in mediation while we're running and screaming or crying or just unite in the community. You don't find people in these rooms that are talking about each other, this does not draw a crowd where people are talking about calories or talking about your neighbor four mats down. It is all about community in here. That's the message and I think people come because they feel it. And it elevates their speak out their in the world. It would be nothing without everybody. It's interesting because when I just started teaching, again, I'm so in it with everybody and I'm just trying to heal myself. I'm speaking from a super authentic and very present place, which is why the work continually shifts. I remember when I first started teaching thinking what am I going to do without the struggle, am I going to be able to teach anymore? But life just keeps evolving and it shows you different things and then you're able to have different tools and you use them here. And then something else shows you, and you get destabilized again. I've just been so lucky to have the gift of being able to bring it into a room and process it myself.
The Top Beauty Moments From Pre-Fall 2017
Slicked back hair and creamy skin helped to highlight the dark bold lips at Max Mara.
Carolina Herrera was all about the natural wave, keeping it simple with soft wavy textures and a bare face.
Chanel kept it playful with wild floral headpieces, blue frosted eyes and bright red lips.
Wild voluminous curls with a shimmery turquoise eye was the look for Prabal Gurung.
Dewy fresh skin with a soft skin eye perfectly accentuated Etro's natural look.
Watch W's most popular videos here: