Tatiana Schlossberg, JFK's Granddaughter, Married Her College Sweetheart George Maran in Martha's Vineyard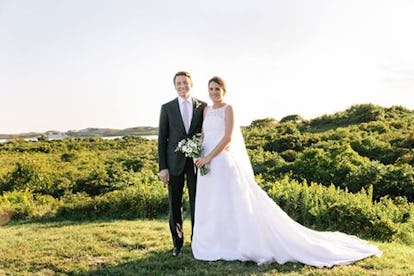 Elizabeth Cecil
These days, most wedding pictures are treated like future Instagram posts, pristinely curated and hyper-posed. But Tatiana Schlossberg, the granddaughter of former president John F. Kennedy and Jacqueline Kennedy Onassis, proved that some of the best ones come from letting your guard down when she got married over the weekend. As the first of JFK and Jackie O's grandchildren to do so, the journalist tied the knot with her college sweetheart George Moran in Martha's Vineyard.
The pair, who met as students at Yale University, held their ceremony at Schlossberg's family home on the Massachusetts island, The New York Times reports, and tapped former state governor Deval L. Patrick to officiate it. For those who didn't attend the ceremony, which went down 64 years after the bride's grandparents married on the exact same weekend (though a different date), the The John F. Kennedy Library and Museum has shared two pictures from the event. It's likely not a coincidence that they chose to share them on September 12, 1953, JFK and Jackie O's own anniversary.
"Congratulations to President Kennedy's granddaughter, Tatiana Schlossberg, and George Moran who were married over the weekend," reads the caption of the photos on the organization's Facebook page. In the two photos, especially the second one where Schlossberg and Moran flash smiles as the bride points to the camera, the married couple look like they're having the time of their lives.
For their nuptials, Schlossberg opted for a classic look in a white sleeveless gown with a lace bodice and a long train. She paired the timeless dress with drop pearl earrings, a lace veil that flowed from her updo and a simple bouquet of white flowers. As some commented on the photos, Schlossberg looked like her her mother, Caroline B. Kennedy.
While photos of the wedding party have yet to be released, it likely included her mother along with her father Edwin A. Schlossberg and her siblings, older sister Rose, the 28-year-old who has her own comedy web series called End Times Girls Club, and Jack, her younger brother who recently paddle boarded around Manhattan and has a very active and hilarious Instagram presence. Schlossberg, meanwhile has worked as a reporter for the New York Times covering climate change and her new husband is currently in his fourth year of medical school at Columbia University. Congrats to the newly weds!
Related: Jack Schlossberg, Caroline Kennedy's Son, Was His Mom's Date to the Met Gala on Monday
A Pictorial Guide to the Well Connected Kennedy Family Tree:
Jackie Kennedy Through the Years: A Look Back at the Original White House Style Icon
A smiling Jacqueline Bouvier arrives at St. Mary's Church in Newport, R.I., on the arm of her stepfather, Hugh D. Auchincloss, for her wedding, 1953. Photo courtesy of Getty Images.

Getty Images
Jackie Kennedy on a visit to India in 1962. Her signature pearls and gloves accessorize an apricot dress with bow accent. Photo courtesy of Getty Images.

Getty Images
Jackie looks windswept on a December afternoon in 1969 in a casual black turtleneck. Photo courtesy of Getty Images.

Getty Images
Jackie Onassis pictured receiving a gift from Prince Sihanouk of Cambodia and his wife during a trip to Cambodia in 1967. She dons a teal one-shoulder dress with decorative trim. Photo courtesy of Getty Images.

Getty Images
Jackie Kennedy on a trip to Canada in 1961. The First Lady matches an iconic pillbox hat to her red wool suit. Photo courtesy of Getty Images.

Getty Images
Jackie Onassis attends the Metropolitan Opera at Lincoln Center in 1967 wearing a white 3/4 sleeve gown cinched at the waist by a chunky belt with stone inlays. Photo courtesy of Getty Images.

Getty Images
Jacqueline Kennedy Onassis in a formal pants suit on East 75th Street, New York, 1960. Photo courtesy of Getty Images.

Getty Images
Jackie Onassis on the way to the Metropolitan Opera House House Royal Ballet in 1974. Her printed maxi dress exudes 70's glamour. Photo courtesy of Getty Images.

Getty Images
President and Mrs. Kennedy in West Palm Beach, Florida, 1961. Photo courtesy of Getty Images.

Getty Images
Ms. Onassis arriving at La Cote Basque in 1970. In a stunning red moment, Jackie looks playful in a beautiful ruffled dress that's belted at the waist. Photo courtesy of Getty Images.

Getty Images
Jacqueline Kennedy wearing a checked blue and white high cloche with a matching blue ribbon around the crown as she arrives with the President to greet the Pakastan President, Ayub Khan, Andrews Air Force Base, Maryland, July 11, 1961. Photo courtesy of Getty Images.

Getty Images
First Lady Jacqueline Kennedy walks a pace behind her husband in a monochromatic white outfit, a look that quickly became synonymous with Mrs. Kennedy during her Camelot days in 1962. Photo courtesy of Getty Images.

Getty Images
Jackie Kennedy exits a plane at Laguardia Airport Field in a knee-length leopard coat in 1962. Photo courtesy of Getty Images.

Getty Images
Jackie is pictured wearing her riding outfit at the 17th Annual Horse Show in 1970. Photo courtesy of Getty Images.

Getty Images
Jackie Onassis is photographed in 1970 at The Alvin Theater in New York wearing a black and white cocktail dress belted at the waist with geometric inserts. Photo courtesy of Getty Images.

Getty Images
Jackie is photographed at Heathrow Airport sporting a casual printed blouse and iconic oversized glasses in 1976. Photo courtesy of Getty Images.

Getty Images
Jackie Onassis pictured wearing a green cocktail dress to a dinner at La Cote Basque Restaurant in 1974. Photo courtesy of Getty Images.

Getty Images
Jackie wears a vibrant yellow gown to the Metropolitan Opera House in 1973. Photo courtesy of Getty Images.

Getty Images
Jackie wears a navy suit with a red bowtie while out with her children in 1971. Photo courtesy of Getty Images.

Getty Images
Jackie looks effortless exiting the cinema in a simple khaki skirt and tucked blouse during the summer of 1981. Photo courtesy of Getty Images.

Getty Images
First Lady Jackie Kennedy attends the unveiling ceremonies at the National Gallery of Art in a strapless lavender evening gown and satin elbow length gloves in January of 1963. Photo courtesy of Getty Images.

Getty Images
Jacqueline Kennedy Onassis wears a ballgown with a long sleeved sequin top to a gala at the New York Public Library in November of 1986. Photo courtesy of Getty Images.

Getty Images
Before she was a Kennedy, she was Jacqueline Bouvier. Here, the future Mrs. Kennedy is pictured in a floppy hat and shorts on holiday at the Kennedy compound in 1953. Photo courtesy of Getty Images.

Getty Images
In 1989, Jackie Onassis is sighted wearing a yellow sequin skirt paired with a crisp white blazer and pearls in New York. Photo courtesy of Getty Images.

Getty Images
Jackie Onassis attends her daughter Caroline's wedding wearing a long sleeved mint colored cocktail dress and gloves in 1986. Photo courtesy of Getty Images.

Getty Images