Watch Taylor Swift's 'End Game' Music Video Trailer
There's drinking, there's dancing, there's hair-flipping—and there's Ed Sheeran.
---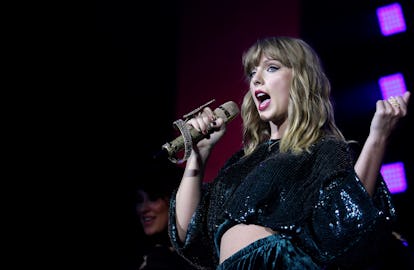 Getty Images
Say what you want about Taylor Swift, but the music videos she's released during her Reputation era have been dramatic and worth watching.
In "Look What You Made Me Do," for example, 15 of her clones fight! She turns into a zombie and digs her own grave! At one point, she literally hisses! In "Ready for It," Swift rocks her birthday suit while channeling "Matrix"-esque superpowers. She also battles herself in the video, and [seems to take a knock at Kanye West](https://www.glamour.com/story/taylor-swift-nude-in-ready-for-it-video-dig-at-kanye-west?mbid=synd_wmag. And now we have a third video: "End Game." Yes, Swift is making "End Game" her next single.
This morning, Swift teased a snippet of the video on her Instagram, and it looks interesting. Collaborators Ed Sheeran and Future make appearances, and a big portion of the music video seems to take place on a yacht. There's drinking, there's dancing, there's hair-flipping—turn-up Taylor is in full swing here. Check it out for yourself, below:
The full "End Game" video drops at midnight. Let the fan theories begin.
Related: What Game is Taylor Swift Playing? Here's All the Conspiracy Theories Floating Around About New Album Reputation