Taylor Swift's Karlie Kloss Kut
In case you missed it, here are the best style stories of the week.
---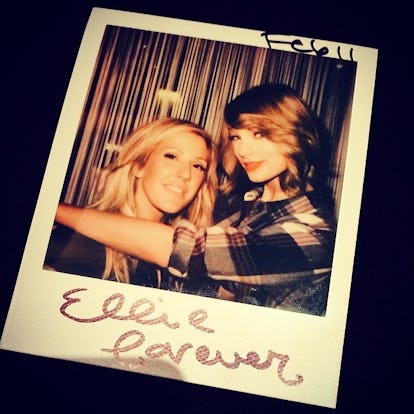 Cho, Alina The former CNN correspondent is now the editor at large of Ballantine Bantam Dell. Stay tuned for more fashion-related lit.
Cole, Lily Bought a bookshop; will hopefully collaborate with Ms. Cho.
Jenner, Bruce Went ombre.
Jenner, Kendall Went sheer at Marc Jacobs; couldn't be upstaged by her dad for long.
Kenzo Now designing bank cards, as if we needed another daily reminder to stock up on eye-printed sweatshirts.
Kim, Lil Stole the show from The Blonds—which is no easy feat—with a big ol' baby bump.
Leon Talley, Andre Live blogged that time he was stuck in an elevator post-Oscar de la Renta. Naturally.
Lim, Phillip Teased those who saw his runway show this week by debuting a nail polish collaboration with NARS that won't be available until Fall 2014. Rude.
Lopez, Sessilee Did not let the fact that she skipped New York Fashion Week stop her from backseat modeling.
Lyons, Jenna Made a truly fantastic cameo on Girls, unfortunately did not give Lena Dunham a lesson in layering.
Middleton, Pippa Channels her inner Beyoncé in a sheer dress. The Queen has no comment.
Miss Piggy Hired Vivienne Westwood to design her wedding dress. Has yet another thing in common with Carrie Bradshaw.
Mulberry Is working on a super secret project with Cara Delevingne. Will it—possibly—involve leather goods? We'll have to wait and see.
New York City Is running low on snow boots. Weather—take the hint.
Prada, Miuccia Is now the co-CEO of Prada, alongside her husband Patrizio Bertelli. Now that's a great Valentine's Day present.
Sports Illustrated Put models Lily Aldridge, Chrissy Teigen, and Nina Agdal on the cover of its annual swimsuit issue. Sorry, Kate Upton fans.
Swift, Taylor Cut off all of her hair in an attempt to better resemble Karlie Kloss. And it worked.
Valentino Sent out a press release notifying members of the media that Amy Adams carried a Valentino bag to Philip Seymour Hoffman's funeral. Let's say it together: OOPS.
Wang, Alexander Showed his Fall 2014 collection in Brooklyn, caused a Twitter frenzy.
Weir, Johnny Brings street style to Sochi. Hello!