Telfar Goes Commercial—Sort Of!
The fashion designer's new video brings Extremely Normal to a whole new level.
---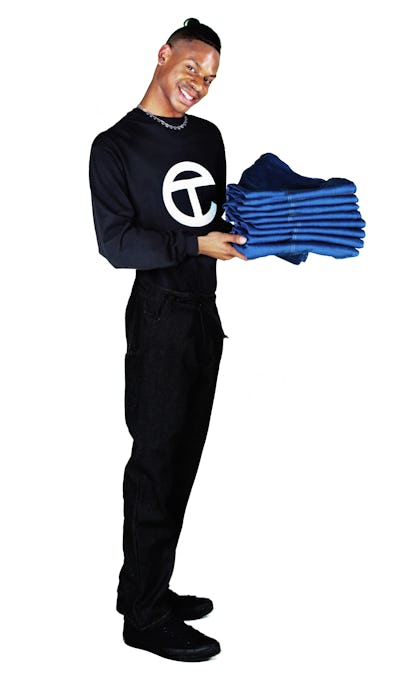 "Telfar! Telfar! Telfar!" That seems to be the cri de guerre this fall for all those combatting general fashion fatigue with the clever unisex clothes by 28-year-old Telfar Clemens. The Liberian-born, Queens-raised designer defines the style of his eponymous line TELFAR, which consists of often slightly twisted but never cynical reinterpretations of mass-market "basics," as Extremely Normal™. This season, Clemens took the Extremely Normal concept to another level by enlisting creative director Babak Radboy, MOCAtv, and some of the commercial imaging industry's top talent to produce TCTV, a three-minute-long promotional video worthy of a global mega-brand.
Rendered almost entirely in 3D, the video features a futuristic set with oversize Telfar logos, populated by a gaggle of male (and one female) models cavorting on Verner Panton lounge chairs, excitedly shouting the designer's name while showcasing, say, a "four-pocket reversible crewneck jumper," or "drop-shoulder split dress shirt." Together with the millions of dollars worth of post-production combined and the Ca-Ching!-enhanced soundtrack by the artists Ryan Trecartin and Lizzie Fitch, TCTV is at once eerily familiar and utterly bizarre, very commercial and perfectly avant-garde. But most importantly to the designer himself, it is unlike anything that's out there. Watch the video here:
The TELFAR pop-up at Opening Ceremony carries on through August 28th.
Photos: Telfar Goes Commercial—Sort Of!