Meet Hawa, the Classically Trained Rapper Who Lit Up Telfar's Pitti Uomo Show
The Berlin-born musician whose EP "The One" drops in March got her start studying with the New York Philharmonic.
---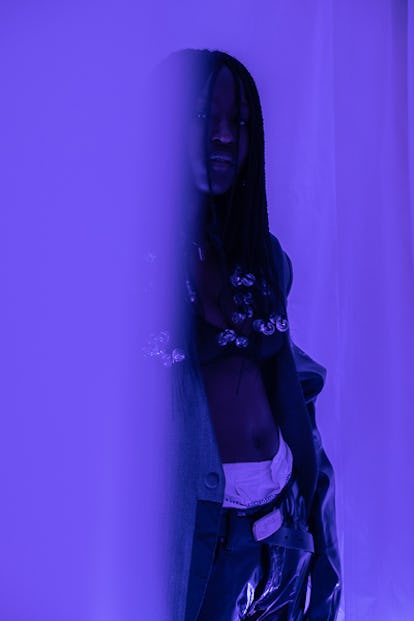 The musician Hawa is gaining attention for her performance at Telfar's Pitti Uomo show in Florence, Italy yesterday—but her story actually begins at the New York Philharmonic.
That's where, in 5th grade, she was chosen to participate in a youth program that allowed her to pair up with composers from the Philharmonic, studying with them in Lincoln Center. The program also gave her a chance to participate in contests, submitting music she composed for awards.
"I kid you not, I never lost a contest," 19-year-old Hawa, who was born in Berlin and raised in New York City, says from her hotel room in Florence, the morning after the Telfar presentation. "I'm very proud to say that."
Her musical talent took her all over the world—she traveled to Europe, Asia and Africa with the Philharmonic, composing and taking classes. Her sharpest memory: going to Shanghai at 12 years old to hear that city's Philharmonic perform a song she composed.
"These were people who had never heard of me, had never heard of my music, who had never even seen me," she remembers. But the house was packed nonetheless— and Hawa opted to sit in the crowd instead of remaining onstage for the show. "I'm looking and I'm actually seeing people enjoying it," she says. "When I was that young and people would tell me, 'Oh this is great, this is good.' I'd be like, 'Are you telling me this because I'm this age and I'm doing this, or is it actually fucking good?' Seeing people moving made me happy. Then, out of nowhere, they put the spotlight on me, and everyone stands up and starts clapping. I was like wow, that's an amazing feeling."
"Even though it wasn't me on stage singing, I still got that feeling of love. All I care about is people having respect for my art. What's the reason to do anything if you don't want the most respect, and you don't want to be the best at it?"
She can't remember the name of the song ("I'm not really that good with names, and remembering," she laughs), but she can recall the sensation. And that emotion has stuck with her in her present-day career as a rap artist and singer, with the technical foundations of classical music in her toolbox.
At 17, she signed a deal with 4AD and spent the next year avoiding listening to anyone else's music while she prepared to work on her debut EP "The One," which will drop this March. That way, she got space to tune out other artists' sounds and focus on what she wanted to hear from herself.
"For my EP, I'm not even going to front, I only wrote for three songs," she says. "And then after, I went into the studio every day, just making music from the top of my head. When you try to put a formula to art, or something that's creative, you put yourself in a box."
She's released three singles, "Kill Some," "I'm Safe" and the latest "My Love," in the run-up to the EP release. After she posted snippets of her music on Instagram, The Telfar team took notice and DM'ed her.
"First thing they told me was, 'We want you to be yourself, we want you to be free,'" Hawa says. "We want you to be you, do what you do, you're the musician, this is your thing.'"
After she leaves Italy, Hawa heads to London and France for her "The One" campaign. But even with a packed professional schedule, she remains the 12-year-old girl sitting in the audience, watching people enjoy themselves and be entertained. She's just got a little more experience now.
"My goal is to be my own musician," she says. "Not take everything to heart, but still take it seriously. Because at the end of the day, I'm not just here for fun and games. I want to become a legend in this."