The Iconoclastic Terry Jones, the Art Director Who Started Street Style Culture
A look back at the founder of i-D magazine and creative collaborator on W's September issue.
---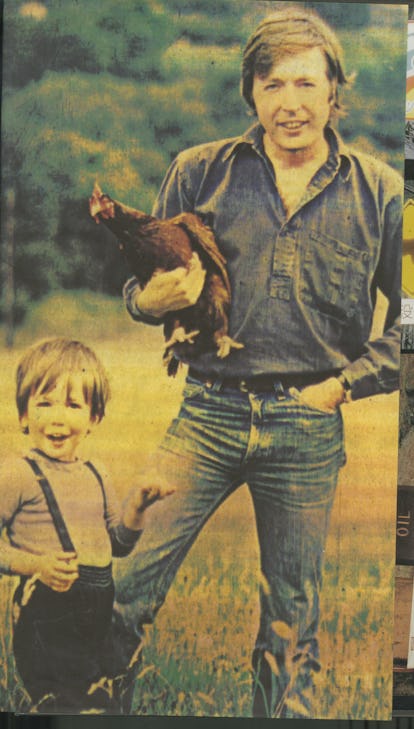 Many years ago, when a schoolboy named Terry Jones was getting measured for his uniform, he would puff out his chest so that his finished jacket would drape rather than hug, and he would turn his tie upside down so that it was skinny rather than fat. It was an early sign, maybe, of the instinctive iconoclasm that Jones has become known for since the British creative director founded i-D magazine in 1980.
"At the time, there were no magazines that dealt with the street," he recalled recently. Retired since he sold i-D to Vice media four years ago, Jones, now 71, was calling from his place in Wales, where he was waiting for some friends to show up to enjoy the dinner he and his wife Tricia were cooking. In 1978, Jones, whom W invited to be a special creative collaborator on the September 2016 issue (you'll no doubt notice some surprising design changes, including our logo), had recently left a very successful stint at British Vogue; he had just published Not Another Punk Book (now a classic fashion document of the era); and he was working with the Italian photographer Oliviero Toscani on several projects, including the magazine Donna. Seeing that no magazines took street style seriously, Jones pitched the template for what would later become i-D to Donna publisher Flavio Lucini.
"He told me that there would be no interest in that," Jones said. "He said it wouldn't sustain commercially."
Undeterred, Jones funded his new venture himself, at around the same time that its spiritual sister publications The Face and Blitz also took off. Energized by the popularity of fanzines in the moment, Jones knew he wanted to create a fashion zine dedicated to the streets. It would be unfiltered and fast, and it would look handmade. "It was about the idea that you could do it yourself rather than have a fashion magazine dictate what you could wear. It was the time when post-punk, club life, and the music scene were all coming together. It was about DIY self-expression."
There was, however, the problem of what to call it. Then, one morning, during Terry and Tricia's customary tandem bath in their London house in West Hampstead—"the bathroom was the boardroom," Jones said—Tricia told him, "That's the one: i-D." It worked on several levels: Jones's design firm was called Instant Design, the magazine was focused on the identity beneath the facade of fashion, and the winking graphic logo even led some to later claim it as the first emoticon.
Since then, Jones and i-D have gone on to cultivate generations of fashion followers and readers, not to mention talented collaborators like Nick Knight, Simon Foxton, Judy Blame, Juergen Teller, Craig McDean, David Sims, John Galliano, Kate Moss, and of course W's own Edward Enninful. They gave Madonna her very first cover (Jones claimed he discovered her "performing at a Fiorucci party"). Sade, too.
Not that Jones ever shied away from his unconventional tactics, no matter how big his fanzine got. The worst pictures from a shoot? He printed them the biggest, and the best ones the smallest. He printed pictures upside down. He cropped them haphazardly. He used grainy stills from videos of shoots, rather than the pictures themselves. He tried the patience of readers by using a yellow type on a background with four different colors. And there was the time a former i-D editor, Dylan Jones, walked into the office to discover Terry slicing four inches of text off the bottom of one of his stories. Asked what he was doing, Terry shrugged and replied, "It doesn't fit." (Dylan Jones relayed this tale in a first-person article for the Independent, which has the distressed air of a man on a psychiatrist's couch.)
But an independent magazine doesn't stay relevant for 32 years by following conventions. Even when he was art directing magazines, Jones barely looked at other publications. "I was not what you would call a magazine buyer," he said. He preferred to look forward, always, rather than around. But there are still some things he is nostalgic for. The text of the article that accompanies W's Rihanna cover story, for example, was punched, by hand, on an actual typewriter.
"That sound of a manual typewriter," Jones said. "It is still pretty great."