Tessa Thompson Is Reportedly Starring in a 1960s-era Jazz Film With Nnamdi Asomugha
Can Sylvie hit theaters already?
---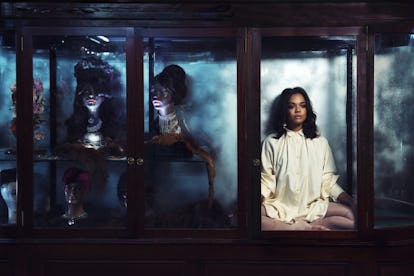 Oh, are the Oscars this weekend? For films that came out in…2018? Yeah, we're kinda past that, sorry! It's 2019 now, which means it's time to get excited for the movies that will hit theaters in 2020. Life comes at you fast, and entertainment comes at you even faster. Boom, whizz, kapow—you get it.
Which is all to say that we are already so excited for Tessa Thompson's just-announced new project, Sylvie, in which she'll star alongside Nnamdi Asomugha. According the The Hollywood Reporter, "Set in '50s and '60s New York City, the story follows Sylvie (Thompson) as she meets aspiring saxophonist Robert (Asomugha) when he takes a job at her father's record store in Harlem. After a summer romance that comes to an end, the two fatefully reconnect several years later and find that their feelings for each other have never disappeared." So, basically, it's If Beale Street Could Talk meets The Notebook.
Thompson's costar and co-producer, Asomugha, is a relative newcomer to the film world. After a handful of television roles, he broke out in 2017 with a role in the Sundance hit Crown Heights, and before that had a career as—twist!—a cornerback in the NFL. He had played for the Oakland Raiders, Philadelphia Eagles, and San Francisco 49ers, and not yet dabbled in film and television when he married Kerry Washington in 2013.
Sylvie, which reportedly started production this week, is the most dramatic of Thompson's upcoming projects, especially now that she's reached superstar status and begun working mainly on blockbusters and franchises. She's on HBO's Westworld, costarring with Chris Hemsworth in the Men in Black reboot, and will voice Lady in Disney's Lady and the Tramp remake. Tessa Thompson can do it all! Except, maybe, play football? But she's got a friend who can help her with that.
Related: Tessa Thompson Might Be the Only Celeb Whose Style Icon Is a Farm Animal
From Tessa Thompson to Brie Larson, 23 Actors Who Broke Out at Sundance Film Festival
Tessa Thompson was named a breakout star when Dear White People premiered at the 2014 Sundance Film Festival.

Tim Walker
When Thirteen premiered at the 2003 Sundance Film Festival, Evan Rachel Wood quickly became a star.

Kathy Lo
Kiersey Clemons made a big splash in Dope when it premiered at the 2015 Sundance Film Festival.

Nadine Ijewere, September 2018.
Esther Garrel appeared in Call Me By Your Name, which premiered at the 2017 Sundance Film Festival.

Michael Beckert, April 2018
Before starring in Get Out and Sorry to Bother You, Lakeith Stanfield appeared in the 2013 Sundance darling Short Term 12.

Tim Walker
Anya Taylor-Joy became well-known after her performance in The Witch, a horror film that premiered at the 2015 Sundance Film Festival.

Paolo Roversi
Rami Malek made a mark with his performance in Short Term 12, which premiered at Sundance Film Festival in 2013.

Tim Walker
Brie Larson gained critical acclaim for her performance in the 2013 drama, Short Term 12.

Juergen Teller
Danielle Macdonald impressed American audiences and critics when she starred as a Jersey rapper in Patti Cake$, which premiered at the 2017 Sundance Film Festival.

Alex Hodor-Lee
Elsie Fisher was just 14 years old when she starred in 2018 Sundance hit Eighth Grade.

Tim Walker
Four Weddings and a Funeral was the 1994 Sundance hit that introduced Hugh Grant as a leading man.

Ellen von Unwerth
Abigail Breslin's performance in Little Miss Sunshine, which premiered at the 2006 Sundance Film Festival, eventually earned her an Oscar nomination the following year.

Rineke Dijkstra
Michael B. Jordan starred in the 2013 film Fruitvale Station, marking the beginning of his onscreen partnership with director Ryan Coogler.

Tim Walker
Tatiana Maslany gained traction after appearing in the 2009 film, Grown Up Movie Star.

Caitlin Cronenberg
Miles Teller snapped up everyone's attention after his performance in Whiplash, which premiered at the 2014 Sundance Film Festival.

Tim Walker
Daniel Kaluuya nearly broke the Internet after his starring role in the 2017 film Get Out, which first made waves at that year's Sundance Film Festival.

Juergen Teller
Felicity Jones captured audiences' hearts in the 2011 romantic drama, Like Crazy.

Craig McDean
At the 2005 Sundance Film Festival, Amy Adams broke out as an indie talent to watch thanks to her performance in Junebug.

Tim Walker
Jennifer Lawrence was catapulted to fame after her turn in Winter's Bone, which premiered at the 2010 Sundance Film Festival and went on to earn her her first Oscar nomination.

Tim Walker
Carey Mulligan was nominated for an Academy Award after starring in An Education, which premiered at the 2009 Sundance Film Festival.

Michael Thompson
Bel Powley won over audience's hearts in Diary of a Teenage Girl, which premiered at the 2015 Sundance Film Festival.

Kenneth Willardt
Quvenzhané Wallis went on to be nominated for an Oscar for her performance in the the 2012 film, Beasts of the Southern Wild.

Juergen Teller
Elizabeth Olsen gained traction after starring in Martha Marcy May Marlene in 2011.

Alex Prager