Tessa Thompson Might Be the Only Celeb Whose Style Icon Is a Farm Animal
The actress shares her more about her love of art and… goats.
---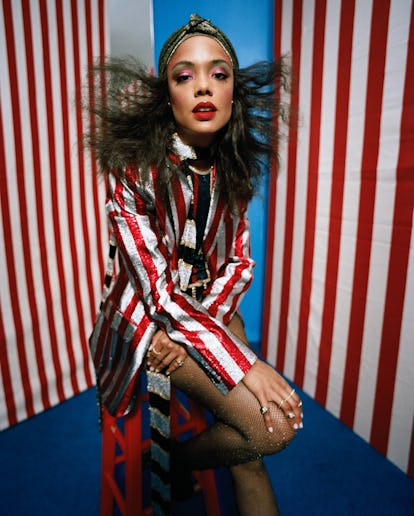 Tim Walker
The very thought of attending the nonstop party extravaganza that is Art Basel Miami Beach for the first time ever right before boarding an international flight to Brazil for Comic-Con is enough to make anyone exhausted. The actress Tessa Thompson, on the other hand, couldn't sound more thrilled last week when sharing the news of her upcoming travels—even though she had only completed her latest international circuit, for the worldwide premieres of Creed II, less than 24 hours before.
"For so long we've talked about how the fine art world has never been incredibly inclusive, so it's really exciting to me to promote inclusivity and give a voice and a platform to undiscovered talent in that space," the actress said. That's why she decided to squeeze a trip to Miami into the very end of her whirlwind year, where she'd taken on the duty of announcing the winners of the Bombay Sapphire Artisan Series competition, which is now in its ninth year of supporting young artists. Thursday night, then, found her and this year's award winners—Judy McReynolds-Bowman of Detroit, J. Margulis of Miami, and Erik Nieminen of Montreal, who took home this year's grand prize—living it up in the ridiculously over-the-top Versace Mansion—not to mention dancing the night away to Sofi Tukker with pals like Teyana Taylor and Laura Harrier, just ahead of boarding her flight. Before all that, though, she shared more about her appreciation for artists like Kerry James Marshall—as well as, um, goats—in her culture diet.
Do you have a favorite artist who you've only recently discovered?
This is not, by any stretch of imagination, a new discovery, but newer at least to me is the artist Kerry James Marshall. A lot of his work is about how the sort of canon of celebrated work has excluded black bodies and black artists, and it was really astounding to me to see his retrospective in Los Angeles. I've seen images of his work, but seeing it in person was really incredible. The ways he's translated classical style into something so incredibly, colorfully, and specifically black just felt… I mean, I literally walked around the museum just crying. [Laughs.] I've always enjoyed seeing art and going to museums, especially when I'm working in all of these different cities, but I hadn't really ever had that sort of emotional art before, honestly.
What's the last museum that you went to?
I'm in London for the premiere now, but I actually recently lived here for five months, a lot of which I spent at the V&A, the National Portrait Gallery, and one of my favorite museums, the Tate Modern. I haven't really gotten to a place where I can buy all of the art I'd like to buy, but one thing I also sort of indulge in and don't spare any expense when with is buying art books. Even though they're so heavy! [Laughs.] I'm always cursing myself at the end of a job because I'm trying to figure out how to get it all shipped home. They're like the least practical thing to buy when you're traveling, but also what I feel the most compelled to buy all the time.
Getting into the culture diet questions, what's the first thing you read in the morning?
It depends—if I'm reading a book and I have some time, I'll typically pick that up. I try to limit my time on social media as much as possible, but I do find Twitter can be a good space to figure out what's happening in the world. And then sometimes I like to just read poetry or a short story or something—lately I've been reading poems by my friend Jacqueline Suskin.
How do you get your news?
NPR—usually on Twitter, which is where I get most of my news.
What are some of your favorite Instagrams to follow?
Kimberly Drew, who's @museummammy—I like to discover new artists from her and see what kind of cultural events she's going to—and Juliana Huxtable. I like following different museums that I like to see what's happening there, like the Brooklyn Museum, and this account called @artxdesign, just because their content is often really beautiful, and @structuredmag, because theirs is really cool. And then I like following young, inspiring people like Yara Shahidi.
You've characterized your "obsession" with goats as not exactly mild. How much do you keep up with the Twitter account@tessaasgoats?
Oh, I keep up with it—I mean, if you see me on Twitter, I'm typically silent except to repost a "Tessa as Goats" image. [Laughs.] It means a lot to me. It's a time right now where it really makes sense to stay engaged with what's happening globally and politically, but it's also nice to have moments of levity—and "Tessa as Goats" is definitely a huge one for me.
Do potential goat comparisons ever cross your mind now when you're getting dressed?
Well, I get sent so much goat content now, which is really fun; every day I'm tagged in tons of photos and videos of goats. [Laughs.] And actually, recently, someone sent me a photo of a goat in a winter coat, which looked suspiciously like a Coach coat I was sent, so I recreated that image and tweeted it at @tessaasgoats. So I think I'm going to start doing it the other way around now—finding goat images and try to recreate myself looking like them.
What's so brilliant about the account is that it uses found images of goats, but now I'm also really interested in people who own goats and could recreate some of these things. So: consider that a challenge to someone to create the Valentino I wore last night with a goat. I would love that.
Same. Moving on from goats, what's the last song you had on repeat?
Aretha Franklin's "Day Dreaming."
Last thing: what's the last thing you do before you go to bed?
Well, I guess last night I took a bath and I read half of a play. It's never ever the same, though—I wish it were. I wish it was always like, washing my face!
Related: Why Is Tessa Thompson So Obsessed with Goats?
A Brief History of Celebrities Getting Silly at Art Basel Miami
Before she moved to Mykonos, Lindsay Lohan was appreciating the art in Miami in 2013.

Aaron Davidson/Getty Images
Pamela Anderson immersed herself in the art at Art Basel Miami in 2008.

Gustavo Caballero/Getty Images
Cardi B turned up at a Moschino party with Jeremy Scott at Art Basel Miami in December 2017.

Thaddaeus McAdams/Getty Images
Drake rolled around in a golf cart after his performance during Art Basel in 2017.

Photo by @champagnepapi.
Iggy Pop naturally performed shirtless at an Art Basel Miami party with The Stooges in 2007.

Larry Marano/Getty Images
Solange, who was spinning at an Art Basel Miami party in 2011, ran into her friend Janelle Monáe behind the DJ booth.

Andrew H. Walker/Getty Images
Adrian Grenier took to the beach to answer what could only be some important work emails under an umbrella at Art Basel Miami in 2013.

Alo Ceballos/Getty Images
Diddy did not let an injured arm stop him from showing up to Art Basel Miami in 2011.

Gustavo Caballero/Getty Images
Lenny Kravitz opted for a pair of silver boots to wear while traipsing the beach at Art Basel Miami, instead of going barefoot, in 2013.

Alo Ceballos/Getty Images
The first Paris Hilton Art Basel Miami appearance took place in 2006, just four years after the inaugural Miami Beach show.

John Parra
Venus Williams assessed the art—while wearing a pair of fur-trimmed boots in the tropical locale—during Art Basel Miami in 2010.

Uri Schanker
Rosario Dawson and Young Paris partied together in the evening at Art Basel Miami in 2016.

Sean Zanni
Muhammad Ali gave Will Smith some bunny ears at Art Basel Miami in 2013, just two years after Smith portrayed the iconic boxer in Ali.

Gregorio Binuya/Getty Images
Before she became a Cool Mom, Slick Woods partied at Art Basel Miami in 2017 with Jeremy Scott.

Thaddaeus McAdams/Getty Images
Of course Beyoncé and Jay-Z have made a pilgrimage or two to Art Basel Miami. This one took place in 2008.

Gustavo Caballero/Getty Images
Pharrell performed at an Art Basel Miami party in 2010.

Gustavo Caballero
Faye Dunaway was very excited to pose in front of some Fernando Botero paintings at Art Basel Miami in 2008.

Patrick McMullan/Getty Images
Before landing at the helm of Louis Vuitton, Virgil Abloh performed a DJ set at Art Basel Miami in 2014.

Alexander Tamargo/Getty Images