Tessa Thompson's Love of Goats Continues Undying
Why does Tessa Thompson love these small furry farm animals so much?
---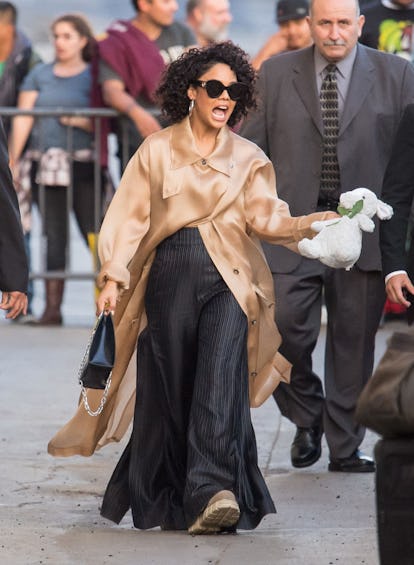 RB/Bauer-Griffin/Getty Images
In case you missed it on her Twitter or Instagram, Tessa Thompson, star of Creed II and Sorry to Bother You, has made it clear that she has a deep affinity for—and even a physical resemblance to—goats. In a red-carpet interview with HipHollywood, she spoke freely about her "obsession" with goats. "I wouldn't characterize [my obsession] as mild. I think it's a little more severe than that," Thompson said, but couldn't exactly pinpoint why she likes the farm animal as much as she does.
Whenever Thompson goes anywhere—on red carpets, during press junkets, or just walking down the street—the Twitter account @tessaasgoats will post a new picture of Thompson as a goat every single day. The origin story of the account and the sudden burst of love for goats on social media is a bit murky (the originator of the @tessaasgoats account has admitted that it all started with "a mixture of sleep deprivation making my brain go a bit weird and just knowing that tessa really likes goats"), but Thompson is just glad to know that people appreciate her love of the animals, and she continues to be a good sport about the attention she gets for it online. "I just really like them. I just think that they're so fun loving, and just, like, beautiful, lovely creatures," she said. "Someone on the Internet realized that I like them. I may have said something in passing, that I wanted to have a pet goat, and now people find pictures of me side by side with a goat that looks like me or is dressed like me," Thompson went on, giving her seal of approval for the meme accounts.
Goats come in all shapes, sizes, and colors, and Thompson can always count on the fact that her daring style—both on the red carpet and off—will be meme'd into a side-by-side comparison Tweet of herself with a matching goat that looks eerily just like her.
Fans have even taken to giving Thompson goats when they meet her on the street, and she happily accepts the gifts.
Even Thompson's celebrity fans are in on the joke, and send her pictures of goats from their sets (or, at least, that's what Cynthia Erivo did).
And although this fan account has been circulating on Twitter since March of this year, Thompson's love for goats is still going strong. As of last week, the actress was photographed staring lovingly at a stuffed animal goat, and joked that she keeps "security detail" for the fake pet.
Meanwhile, Thompson is already on her way to becoming the G.O.A.T. of celebrity goat endorsers.
Related: Tessa Thompson's Relationship Status Will Always Remain an Enigma