Tessa Thompson's Relationship Status Will Always Remain an Enigma
The actress keeps her dating life private, because "super-binary conversations" just don't interest her.
---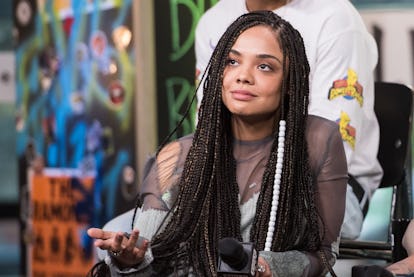 Mike Pont
For months, Tessa Thompson's romantic history has been tough to nail down, especially with the media's scrutiny of her friendship with musician Janelle Monáe.
Earlier this year, the two had already appeared to be very affectionate with each other during their appearances on red carpets, but after Thompson starred as her love interest in Monáe's movie-length music video for her album Dirty Computer, which took the Internet by storm (especially the performance of the song "Pynk" and its overt sartorial references to vaginas), rumors began to fly that Thompson and Monáe were dating. Though both performers tend to be very private when it comes to discussing their dating lives, shortly after the album dropped, Monáe opened up about her pansexuality to Rolling Stone, and Thompson gave an interview to PorterEdit explaining her own fluid sexual identity. She also addressed the relationship rumors with amusement. "We love each other deeply. We're so close, we vibrate on the same frequency. If people want to speculate about what we are, that's okay. It doesn't bother me," Thompson said in June, not exactly providing a confirmation on where the two stand.
The Sorry to Bother You actress is more than aware that because of these recent public revelations about her friendship with Monáe, most interviews are still going to ask her about her current dating situation. The Cut's September issue profile on Thompson dives right in, but she easily admitted that right now she is not dating anyone at all. "I currently don't have time to date," she said, explaining her singledom. "Also, because dating right now requires that somebody gets on a plane, which is fine, but that's a lot to ask when you're first.… It's a lot of expectation," Thompson went on, before launching into an anecdote about the one time she and friends catfished someone for fun on a dating app. "It didn't go well," the actress admitted. "We had some passive-aggressive and some just, like, aggressive messages being, like, 'You're not real!' And I was like, 'And you're right, I'm not!' Delete."
As for the hullabaloo surrounding her friendship with Janelle Monáe, Tessa Thompson gave another half-answer to the question of whether or not the two are dating. "The truth is Janelle and I are both in a space where we're trying to push boundaries in terms of the idea of what space a woman of color can occupy," she told The Cut. Thompson also told the magazine that "super-binary conversations" about "identity or sexuality" just don't interest her, nor do they interest Monáe, and "in our friendship we celebrate that we're like-minded in that space, too."
Related: Janelle Monáe Says She's "Working On" Mass-Producing the Pants From Her "Pynk" Video