Teyana Taylor Talks Life After "Fade," All Access Concert and New Album
The singer, who most recently starred in Kanye West's "Fade" music video, opens up about working on her next album, being a new mother, and how she wants to use her voice.
---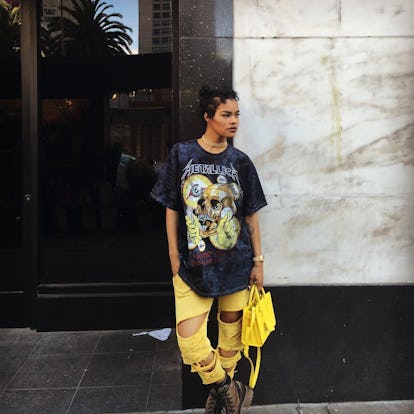 Teyana Taylor / Instagram
Teyana Taylor has said enough about working with Kanye West on his "Fade" music video, her (nonexistent) workout routine, and what that cat face was all about. She's ready to get on stage and do what she's been doing since she was 9-years-old, which is sing her heart out.
Born and raised by a single mother in Harlem, New York, Taylor was signed by Pharrell Williams to Star Trak Entertainment in 2007, and in 2008 debuted her first single, "Google Me." This was made all the more ironic when headlines read: "Who Is Teyana Taylor?" following the 2016 MTV Video Music Awards last weekend. Taylor first met Kanye West in 2010 while he was in the studio recording My Beautiful Dark Twisted Fantasy. He sought her fashion advice, but she was determined to prove her singing chops as well. Finally, in 2012, she was signed to West's GOOD Music label and Def Jam. Her last album, VII, dropped in 2014 and she's back in the studio now working on a fresh new one.
On September 10, Taylor will be using her voice in more ways than one as she joins Sia and the comedian Leslie Jones for the All Access abortion rights event in Cleveland, Ohio, hosted by Jessica Williams of Two Dope Queens and The Daily Show. It is especially impactful to have new mothers like Taylor on the lineup, who gave birth to her first child with husband Iman Shumpert of the Cleveland Cavaliers, Iman Tayla Shumpert Jr., also known as, "Junie," in December 2015.
"I stand by my women," Taylor said over Labor Day Weekend, which she worked throughout. "I support my women. That's really all that matters."
Have you been in the studio a lot lately? Yeah, I've definitely been in the studio. GOOD Music just opened a compound in Los Angeles, so they let all of us just go in and vibe. I've been laying down a lot of different ideas and trying to figure out what I'm feeling musically and where I want to go musically. I'll be dropping something really soon. I've got some big stuff in the works.
Even if you don't know exactly, what is it that you're feeling right now? What are you inspired by these days? With my music, I always express what I'm feeling right at that moment. Just having had Junie, I have a lot to talk about: Junie, love, and being a young adult woman. It's almost like a journal. I just want to tell my story.
And what story is that, exactly? What do you hope other young adult women take away from your lyrics? I want girls and women of any age to know that we are human and come from the same place. My music comes from the heart. I want speak to women and men about real issues that we all go through. You've got to talk about what's going on in the world today — there's a lot going on — but you also got to talk about how it feels; what makes us emotional; what makes us happy.
There's a lot to talk about right now regarding women's rights and abortion rights, especially with the election coming up. Why did you want to get involved with the All Access concert and why is it an important issue to you? When they reached out I immediately said yes. I was like, 'I'm down. I will be there and I will give a great show.' Whether you're a mom or you're not, I think for any woman, period, it's an emotional thing to go through. I stand by my women. I support my women. That's really all that matters.
Were there any specific moments that shaped your voice as an artist? Being pregnant changed my life. I don't know, it's just weird when you're about to be a mom and you're building that bond. You can feel your baby growing inside of you. It's a different kind of feeling of love. I have such a different outlook on things; a whole different hunger and intensity. She's matured me so much.
Does it bother you when people focus on your post-pregnancy body? There's been a lot of talk in the media lately following the "Fade" video. It feels good to know that you can inspire other women. I think that's dope and it also makes mothers around the world feel great to know that it's possible. Even for mothers-to-be who are afraid. Females are motivated, and it's always good to see other females that motivate us. Motivation is key, so I'm happy that I can be motivational. I want people to know: Yes, mothers are superwomen. Literally. If it wasn't for mothers, we wouldn't be here today. We get the cool points.
How has your own mother influenced you? Sometimes I see what little Junie does and I'm like, 'Okay, I put my mom through the same thing.' I definitely peed on my mom and threw up on her. It's a beautiful thing, watching your child grow, but yeah, after Junie I'm definitely like, 'I salute you, mom. I appreciate you.' She raised me alone — she was a single mom — so her strength is a different kind of strength. She inspires me so much. I have my amazing husband, but it's still a lot of work for the both of. Imagine having the strength to there as a mom and a dad. Whenever I'm overwhelmed with my busy schedule, I know that I can do it because she did it.
What do you do for self-care? I love to dance and my daughter likes to dance, too. It's Club Junie all day. It's so cute watching her try to dance to the beat. When I'm recording, I really just want to be with my family — my husband, my grandparents. You know, fun stuff.
Are you listening to anything right now that you really love? I love to zone out to Sade and Aaliyah. I'm such an old lady, so I love the '80s and '90s India Arie. I'm also in love with love songs. My first album was just jams.
How have you grown musically? And where are you headed? My sound has definitely grown. My first album was recorded before Junie was even a thought. Before I found love again. I came from heartbreak and growing up as a woman. Now, I'm 25-going-on-26 and I have a family, a husband, and a child. I can talk about things with a different level of maturity now. I'm a better version of myself. I know what I want. I'm more wise; more aware.
Watch W's most popular videos here: