Celebrities Who Are Against Thanksgiving, From Cher to Rowan Blanchard
Not everyone is getting ready to feast on turkey.
---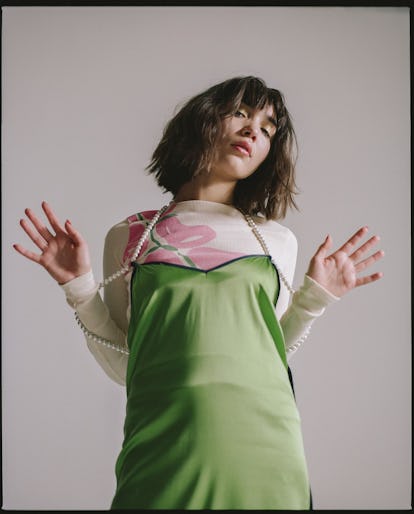 Campbell Addy
Once a universally beloved day of feasting across America, Thanksgiving has arguably become one of the most fraught national holidays to roll around each year. Yes, there are traditions that are lovable and innocuous: for a certain sect of models, it's a chance to fully bid farewell to their rigid Victoria's Secret Fashion Show fitness regimes; for regular, everyday humans, it's simply a welcome chance to indulge. But, of course, things get much more complicated when you take into account that the traditional means of feasting involve slaughtered animals that were most likely raised on a factory farm.
Unfortunately, that's not the only harm the holiday has inflicted throughout its lifespan. The actual first Thanksgiving in 1637 was, after all, probably not what you were told in elementary school: it marked the celebratory return of the volunteers who'd just gotten home from massacring 700 Pequot Indians. (They were just some of those to fall victim to genocide in the name of colonialism, which is why many Native Americans have observed a National Day of Mourning each November since 1970.)
Details like those have proven hard to ignore, and apparently resonate for celebrities who've recently embarked on a quest to become more, for lack of a better word, "woke." Rather than crack your old history books, allow everyone from Cher to Shailene Woodley to break it all down for you, here.
Cher
Cher has a long history of being an outspoken public figure throughout her career, especially on social media. In addition to calling out the Trump administration every chance she gets, vocalizing support for the Women's March, and slamming the NRA, the iconic performer has openly criticized the Thanksgiving holiday and its emergence from the genocide of Native Americans. And where else would be more appropriate for Cher to pop off about her disdain for Thanksgiving than on Twitter? In 2013, after a fan asked her to clarify whether or not she celebrated Thanksgiving, Cher explained that she sees the day as an opportunity to eat dinner with her family, but isn't down for the celebration "of a great crime." When asked to "elaborate" on why she considers the holiday to be a crime, she replied, "Stealing Land,from a ppl,Who believed,Owning LAND Was LIke Owning SKY! We gave them Blankets laced w/Smallpox."
Rowan Blanchard
The 17-year-old actress, author, activist, and former Disney star Rowan Blanchard has long proven wise beyond her years—like, for example, when she got to thinking on what would come next after Standing Rock. Last Thanksgiving, which she referred to as "this strange, state sanctioned annual celebration of colonial genocide," Blanchard took the opportunity to remind her five million followers that "America as we know it is stolen land, 'founded' by white settlers who stole from, killed, and raped Native Americans." She also spoke directly to her followers who are white: "white people, this is one way of us to start paying very basic, owed reparations for the millions of ways we implicate systematic violence against PoC [people of color] everyday, with or without knowledge of doing so."
As for those who choose to celebrate Thanksgiving in general, she requested that they "please also give back to the people who this 'holiday' implicates and triggers institutionalized violence for," citing the Navajo Water Project's statistic that Navajos are 67 times more likely than any other Americans to live without running water or a toilet, and encouraging donations to the non-profit.
Sarah Silverman
For years, Sarah Silverman has made headlines as an outspoken critic of American culture (after all, she does host a Hulu series called I Love You, America with Sarah Silverman, a variety show that unpacks the dismal state of American politics in different segments). It makes sense, then, that she would use her caustic wit to criticize America's relationship to Thanksgiving, and the killing of thousands of turkeys. She once told the story of her version of "the meaning of Thanksgiving," and since the video was produced for Funny or Die, there is a bit of a sarcastic or facetious edge to it, but Silverman's stance on the blood-stained symbolism behind Thanksgiving is quite serious. "The turkey we kill is a symbol of the Native Americans we killed," Silverman narrates in the video. "We're so grateful for their farming techniques that they taught us, as we learned to harvest our own food on the land we took," the comedian continues. "We are giving thanks for being American. God bless America and its greedy self righteous heritage."
Shailene Woodley
In October 2016, while standing in solidarity to block the North Dakota Access Pipeline in North Dakota, Shailene Woodley was arrested for protesting the construction of a multibillion dollar oil pipeline that would run through Standing Rock Indian Reservation and potentially contaminate drinking water along the pipeline. On Thanksgiving of that year, the actress continued to support protesters, and boycotted the national holiday, giving interviews to TYT Politics in which she stated, "Thanksgiving was founded on a massacre." She continued to criticize the national celebration its origins by saying, "From the time we're little kids, we cut out cardboard paper pictures of pilgrims and feasts and turkeys, and yet none of our children know the truth about not only what happened to Native Americans when Westerners decided to colonize this country, but what is still happening to Native Americans."
Alicia Silverstone
As one of the most vocal (and pioneering) vegan celebrities, it's no surprise that Alicia Silverstone has made a point to denounce the holiday—which she seems to have re-christened "save the turkey day"—several times since she stopped eating animal products in 1998. In 2016, for example, she marked the holiday on her Instagram by posting a couple of snapshots of a lamb nuzzling a sheep, which were accompanied by a caption that began "Approximately 46 MILLION of these sweet beings are slaughtered for #thanksgiving each year!" She also encouraged her readers to "Give thanks without centering the holiday around the body of someone that didn't want, or deserve, to die"—and gave a shoutout to some of the "many insane delicious alternatives to turkey" out there. (Including, incidentally, on her blog.)
Related: Mariah Carey, Gwyneth Paltrow, and Other Celebrities Who Had a Fabulous Thanksgiving
Scenes From a Protest: On the Ground at Standing Rock
Photo by Driely S. Photo Editor: Biel Parklee.
Photo by Driely S. Photo Editor: Biel Parklee.
Photo by Driely S. Photo Editor: Biel Parklee.
Photo by Driely S. Photo Editor: Biel Parklee.
Photo by Driely S. Photo Editor: Biel Parklee.
Photo by Driely S. Photo Editor: Biel Parklee.
Photo by Driely S. Photo Editor: Biel Parklee.
Photo by Driely S. Photo Editor: Biel Parklee.
Photo by Driely S. Photo Editor: Biel Parklee.
Photo by Driely S. Photo Editor: Biel Parklee.
Photo by Driely S. Photo Editor: Biel Parklee.
Photo by Driely S. Photo Editor: Biel Parklee.
Photo by Driely S. Photo Editor: Biel Parklee.