How All the Victoria's Secret Angels Celebrated Thanksgiving
Josephine Skriver and Sara Sampaio departed for Thailand, Zuri Tibby went to Tokyo for some udon, and Bella Hadid headed home.
---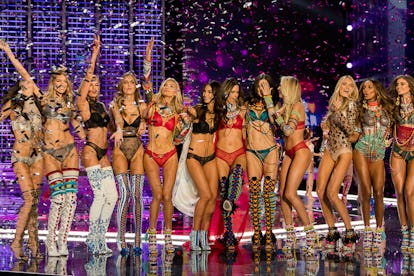 In the days following the Victoria's Secret Fashion Show, all the models' Instagram followers are inevitably braced for a deluge of behind-the-scenes photos from the big day. But this year, as the week after the show wore on, the Angels began to disperse, and backstage lingerie shots gave way to images of the Victoria's Secret ladies boarding private jets, lounging on beaches, and, of course, eating whatever they want (and, though not pictured, maybe even skipping a workout or two). Last year, the Victoria's Secret Fashion Show took place just after Thanksgiving, making the holiday something of a last hurrah for Maria Borges, Alessandra Ambrosio, and Bella Hadid (who, diligently, made sure to also fit in a workout). This year, Thanksgiving is a more celebratory indulgence, finding the models reuniting with their families and celebrating not only all the things they're thankful for, but also having conquered one of the biggest runways in the industry yet again.
Seeing as the Victoria's Secret Fashion Show took place in Shanghai, China, this month, it put the Angels in the perfect position to venture off to other far-flung destinations, because while they're on that side of the world, they might as well make the most of it. Josephine Skriver and her boyfriend, as well as fellow model Sara Sampaio, both made their way to Thailand, stopping in the capital, Phuket, as well as the country's elephant sanctuary.
An impressive number of Victoria's Secret models descended on Tokyo, Japan, to sample the city's bento boxes and udon and wander the streets of Harajuku. Gizele Oliveira, a Victoria's Secret rookie, snapped a selfie at a kawaii café; Elsa Hosk posted a photo spinning around Shibuya; and Megan Williams even located a hedgehog café.
Still more models headed home, or at least towards family—Bella Hadid, whose sister was unfortunately unable to partake in the show, returned to her family's horse ranch, while Vanessa Moody and Lameka Fox returned to New York and Lily Aldridge spent the day with her daughter. Taylor Hill hopped on a plane from Los Angeles to Winter Park Resort in Colorado with her golden doodle, Tate, captioning a short video boarding the plane, "Trying to make it in time for thanksgiving dinner." And Alessandra Ambrosio hit the beach, posting a dreamy black-and-white image of her kids splashing in the waves. "Happy Thanksgiving…" she wrote, adding heart and sparkle emojis.
Others simply posted to express their thanks—for family, friends, pets, and pumpkin pie. (And, of course, for the Victoria's Secret Fashion Show itself. Must not forget.) Karlie Kloss put up an Instagram listing the myriad reasons and ways she was thankful in lieu of an image; model Roos Marijn De Kok posted a video of her Alaskan Klee Kai puppy Aspen.
But it was model Martha Hunt, a Victoria's Secret veteran, who may have had the most Thanksgiving-Thanksgiving of all. She had a front-row seat to the annual Macy's Thanksgiving Day Parade as a guest on the annual broadcast (not for the first time, she noted). Wearing a floral Moncler puffer jacket and lace-up boots, Hunt expressed what most of the Victoria's Secret models must have been feeling on Thursday: relief that the show had fallen a week before, rather than after, Thanksgiving. (The broadcast will air next week.) "Just in time for Thanksgiving. Stuffing, fried turkey, gravy—all of it," she told CBS, adding that the models also had their traditional post-show pizza party in Shanghai.