How 13 Top Models Around the Country Are Indulging in Thanksgiving
Will they be arguing with relatives over Donald Trump? Baking sweet potato pies? Escaping to King Spa in New Jersey? When it comes to Turkey Day, even models need a bit of a break.
---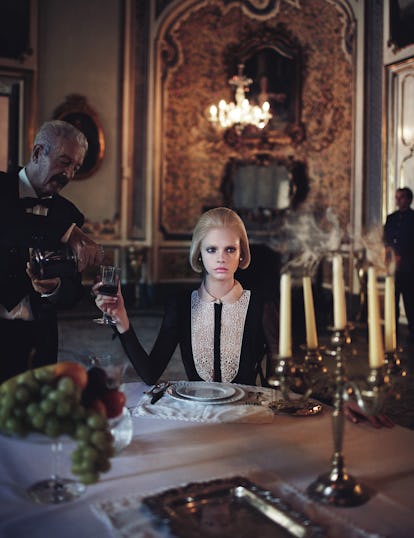 Photography by Mikael Jansson, styled by Edward Enninful.
Apple pies are crisping in the oven. Plump roast turkeys are emerging from the furnace. We're all bracing ourselves for getting a little tipsy with friends and distant relatives. Thanksgiving is upon us. Across the country, even top models get the day off. How are they marking the holiday? Arguing with relatives over Donald Trump? Baking sweet potato pies? Escaping to King Spa in New Jersey? Here, 13 of our favorites weigh in on their family traditions – including something called "wine cooking" – their favorite indulgences, and the recipes they can't get enough of.
Sanne Vloet, New York Models
Model Sanne Vloet will walk the Victoria's Secret Fashion Show in Paris Dec. 5, so Thanksgiving is something of a last hurrah that she'll spend at home with friends in New York. She describes herself as "a happy eater and cook," adding, "Last year I made a turkey for the first time and it was a success, so let's try round two! And a chocolate fondue as dessert makes everyone happy."
Rose Gilroy, Elite
"This year I'll be celebrating with my East Coast family in New York. I have a really big sweet tooth so I'm very much looking forward to indulging in baked goods, specifically pumpkin and apple pie!"
Marland Backus, New York Models
"I'll be getting cozy in Brooklyn with my family this Thanksgiving — the dinner table will be seating 21! Can't wait for my dads whipped maple sweet potato puree," explained Balenciaga favorite Marland Backus. She's got a daunting task this year: "My parents, my sister and I spend two days in the kitchen preparing. My job is to bake six pies."
Brionka Halbert, Next Model Management
A native of the British Virgin Islands, Brionka Halbert explains that her Thanksgiving usually starts with an early rise: "My mom and I bake the turkey, and then we move on to the ham and side dishes. When the food is finished and we have enough hungry family members around the table, we would say grace and dig in. This would normally end with my cousin calling my phone to say, 'Save my plate for me, and make sure nobody eats my food.' My favorite dishes are the macaroni pie and sweet potato casserole with marshmallows. Then, I wash it all down with a glass of eggnog. This is the day where I 'eat till I can't eat no more.' And I always save room for dessert. After dinner and a dance party, we start Black Friday shopping early." This year will be her first Thanksgiving in New York, which she'll spend with her godparents.
Louise Parker, The Society Management
"I'm looking forward to being home in Minnesota with my boyfriend and whole family this year! It's snowing and freezing there, so I'm really looking forward to staying cozy, being lazy, eating lots, and watching TV. I usually miss out on the cooking, but I am heading home early, so I will be able to help my mom make some salads and pies."
Sandra Martens, Next Model Management
Model Sandra Martens isn't American, so her Thanksgiving plans are a little more offbeat: She'll spend her vacation on a boat in Acapulco, Mexico "eating avocados and trying to throw my friend into the water. That's how my short trip looks like." But her family has its own routines — "I'm a cook and a happy eater for sure! Although our family tradition is called 'wine cooking' — so by the time we finished cooking, the wine bottle will be empty. That may count as a secret recipe as well."
Tatiana Ringsby, Women Management
"I'm currently visiting my family in Brazil, so I'm looking forward to spending time with them and eating tons of rice and black beans. The fact that I'll be out of the country for the actual day isn't going to stop me from celebrating and participating in all of the holiday festivities," says 16-year-old Hawaiian model Tatiana Ringsby. "When I return home to Maui my friends and I are having a belated friendsgiving, where I'm really looking forward to making and eating tons of vegan-anized Thanksgiving foods — especially pumpkin pie! This is my first Thanksgiving as a vegan so I'm super excited to try new recipes. I love cooking, so Thanksgiving is the perfect time to whip out my skills and whip up some delicious foods."
Aiden Curtiss, Next Model Management
What's model and DJ Aiden Curtiss most looking forward to? "Food! I'm going to my best friends family celebration this year," she says. "I am a really happy eater. Thanksgiving, I indulge in the food that is made for me — as I can't cook for my life!"
Sarah Brannon, New York Models
"I'll be celebrating here in New York City with my friends. I'm looking forward to eating some good dessert like pumpkin pie; I've been off processed sugars so Thanksgiving is my cheat day!" says the Memphis native. "I'm definitely a cook. There's plenty of family recipes but I really enjoy thinking up new things and getting creative."
Anna Speckhart, The Society Management
"Thanksgiving in the one time a year my sweet tooth is satisfied. Name a pie, and I'll eat it. Not to mention savory dishes made extra sweet. Hello sweet potato casserole! My family makes a lot of casseroles (I think it's a Midwest thing). Green bean casserole, sweet potato casserole, chicken and stuffing casserole."
Kylie Vonnahme, Elite
"I'm celebrating Thanksgiving in St. Barth's this year, so I'm really excited to eat some of the French food on the Island. Every year I'm always looking forward most to thanksgiving dessert. My holiday isn't over until i've had at least 3 or 4 pieces of pumpkin pie!"
Pooja Mor, Elite
"I'm celebrating with my friends in New York City. I said I'd bring the dessert, and of course its gonna be an Indian one — I think I'm going to go with gulab jamun. I hope they like it. We don't celebrate thanksgiving in India, but we do dinners like this for Diwali, the Festival of Lights."
Caroline Reagan, Next Model Management
"I will be home in Nashville, Tennessee. I'm excited to munch on pumpkin pie," Reagan said. "I help my mom cook. Usually, I just follow her directions because I don't trust myself to make something on my own."