The Act Trailer: Patricia Arquette and Joey King Are Unrecognizable as Mother-Daughter Duo Dee Dee and Gypsy Rose Blanchard
As true-crime mother-daughter duo Dee Dee and Gypsy Rose Blanchard.
---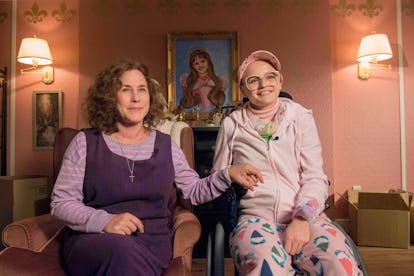 Brownie Harris/Hulu
Many of Patricia Arquette's most acclaimed and award-winning roles have seen her undergo major physical transformations. If that correlation holds true, you can expect to see her sweep next year's award ceremonies for her upcoming role in Hulu's The Act. The new anthology series released its first trailer on Monday, revealing that, once again, Arquette has completely transformed herself while diving into a character—in this case, the real-life Dee Dee Blanchard, whose daughter Gypsy Rose plotted to kill her after spending a lifetime as the victim of her mother's apparent Munchausen syndrome by proxy.
Opposite Arquette in the show, as Gypsy Rose, is Joey King, whose own makeover is even more drastic than her onscreen mother's. While Arquette wears frumpy floral housedresses throughout much of the trailer, King sports a completely shaved head, is confined to a wheelchair, and speaks in Gypsy Rose's startlingly high, infantilized voice—the effects of Dee Dee's disorder, which sees her forcing on her daughter vast arrays of pills, injections, and hospital visits, and tying Gypsy Rose to her headboard when she attempts to resist. (Dee Dee claimed that Gypsy Rose had been diagnosed with leukemia, muscular dystrophy, brain damage, and several other chronic conditions, all of which were later proven to be nonexistent.)
Though the trailer focuses mainly on Dee Dee and Gypsy Rose's life together, it does give a glimpse of Gypsy Rose wearing a bright orange prison outfit in court, being questioned about her mother's murder. Those who followed the 2015 trial—or watched HBO's 2017 documentary about the Blanchards, Mommy Dead and Dearest—can fill in the blanks: After years of experiencing psychological and physical abuse and being forced into poor health at the hands of her mother, Gypsy Rose struck up an online relationship with Nicholas Godejohn, who eventually traveled to Missouri to kill Dee Dee. After a few days running from authorities, both were arrested on suspicion of Dee Dee's murder; Gypsy Rose pled guilty to second-degree murder in 2017 and was sentenced to 10 years in prison, while Godejohn was found guilty of first-degree murder in November 2018 and is set to be sentenced this month.
Watch the chilling first trailer for The Act below; the entire series drops on Hulu on March 20.
Rounding out the cast of the series are Chloë Sevigny, as the Blanchards' neighbor Mel, who begins to suspect that all is not as it seems between Dee Dee and Gypsy Rose; and AnnaSophia Robb, as Mel's daughter Lacey, who volunteers to help take care of Dee Dee. The Blanchards' story is just the first season in The Act's planned retelling of a whole host of "startling, stranger-than-fiction true crime stories," per Hulu.
Related: Patricia Arquette Once Called a Psychic Hotline to Find Her Missing Golden Globe