Here Are the Best Art Inspirations for Your Protest Signs
From Barbara Kruger's bold slogans to Jenny Holzer's forever relevant truisms, the best artists to appropriate for the resistance.
---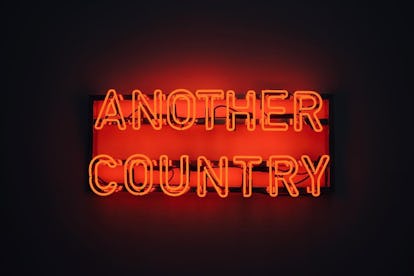 Courtesy of @rude_monkey
An estimated three million people protested worldwide in satellite editions of the Women's March on Washington last Saturday. Their message—that they were not about to take any threat to women's rights quietly—rang loud and clear. But the protests also drove home another point: the importance of the protest sign. Their missives caught the eye and flooded Instagram feeds, and many were even left outside the White House and various Trump Towers, the better to goad the President with. The resistance, of course, continues, and within galleries and museums, artists have already begun to herald the apocalypse. Works on permanent display like Glenn Ligon's "America" neons, examples of which already cover both coasts between the Whitney and the Broad—"Rückenfigur," 2009, and "Double America 2," 2014, respectively—have now been joined by shows like Jenny Holzer's collection of slogan-heavy truisms at Alden Projects on the Lower East Side, and an election-focused group exhibition at Petzel Gallery featuring another of Ligon's neons, "Another Country" (above). Whether new or newly significant, they have turned up in social media feeds repeatedly as inspiration for protestors. Here are some of the best artists to appropriate from.