The Crown Very Flatteringly Casts Josh O'Connor as Prince Charles
It's a flattering choice.
---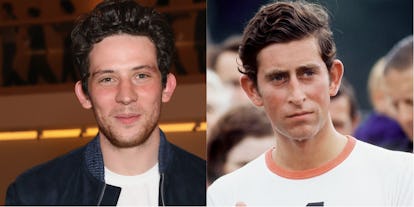 Darren Gerrish/Tim Graham/Getty Images
The first two seasons of The Crown depicted the English royal family with an eerie resemblance. That was especially the case for Matt Smith, who played Prince Philip. In season three, however, when the storyline shifts focus to the love life of another prince—Prince Charles—it may be easier to separate the TV show from real life.
Young Prince Charles has just been cast, and the actor is a very flattering choice for the role. Josh O'Connor, best known for last year's God's Own Country, will be suiting up as Queen Elizabeth II's oldest child and the current heir to the throne. While O'Connor isn't a dead ringer for Prince Charles, he does have the right ears, as he's joked.
"I am thrilled to be joining The Firm for the next installment of The Crown." O'Connor told The Hollywood Reporter in a statement. "Seasons three and four will follow some of the most turbulent events in the Prince of Wales' life and our national story, and I'm excited to be bringing to life the man in the midst of it all. I'm very aware it's a formidably talented family to be joining but reliably informed I have the ears for the part and will fit right in."
The third season will reportedly pick back up where the second season left off, after Queen Elizabeth gave birth to Prince Edward, in 1964, according to the Sunday Times. From there, it will play through the end of the '60s, tracing historical events leading up to 1976. (This time, Olivia Colman will be playing Queen Elizabeth II, and Marion Bailey will be playing the Queen Mother.) While the show runner Peter Morgan revealed that the third season would provide the first glimpse of Princess Diana—a part that has yet to be cast—in real life, Prince Charles didn't meet his future wife until 1977. (At the time, he was dating her older sister, Lady Sarah Spencer, as People notes.) While we will just be meeting Princess Diana in the third season of The Crown, she will apparently be a regular character in the fourth and fifth seasons.
"This is going to take Queen Elizabeth from age 29 to, presumably, the current day. We'll see it lay out over decades," Netflix's Ted Sarandos said two years ago when talking about the show's arc, per THR. "The idea is to do this over six decades in six seasons, presumably, and make the whole show [run] over eight to 10 years." Luckily for us, when the show does finally end, there will still be real-life royal drama to sustain us.
Related: Queen Elizabeth II Names Prince Charles as Her Successor for First Time