Five minutes with Band of Outsiders's Scott Sternberg
Is it something in the Los Angeles River water? At last week's CFDA Fashion Awards, two of the top awards went to LA designers—Kate & Laura Mulleavy of Rodarte and Band of Outsiders's Scott Sternberg....
---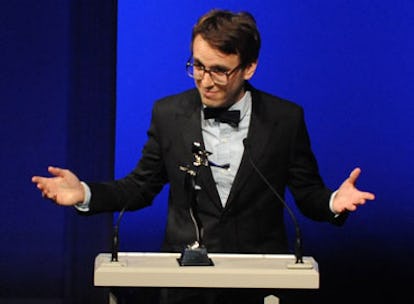 The evening of the CFDA awards, describe in 10 words or less the 30 seconds after they called your name. Hug, kiss, walk, carpet, stairs, stage, Jimmy Fallon, Italian dude.
How many trips a year between LA and NYC? 10, give or take.
Which airline? Delta.
Would you ever show in LA? No.
Would you ever move to New York? Yes. No. Maybe.
What does the New York fashion & media elite not get about LA? The importance of exceptionally good Mexican food in one's life.
What's the one article of clothing you would refuse to design? Adult diapers.
What car do you drive? A 2000 starter Benz.
What is your most memorable film-fashion moment? My head's exploding with this question. All memorable. Top of mind is Godard's La Chinoise, from which I took inspiration for this fall's collection.
Speaking of designers and film, would you rather be a director, like Tom Ford, or the subject, like Valentino? I would rather be a director, like Scott Sternberg.
If Paris Hilton called to borrow your clothes, what would you tell her? That the moon is on fire and she better get outside and help put it out right this instant.
Which do you prefer: Hills or beach? Hills.
Mozza Pizzeria or Mozza Osteria? Pizzeria.
Palm Springs or Joshua Tree? Palm Springs.
Waverly Inn or Monkey Bar? No.
HuffPo or Perez Hilton? HuffPo.
Sasha or Malia? Tie.
Kris or Adam? Dylan.
Jon or Kate? Who?
Photos: top, Steve Eichner; all others, George Chinsee.